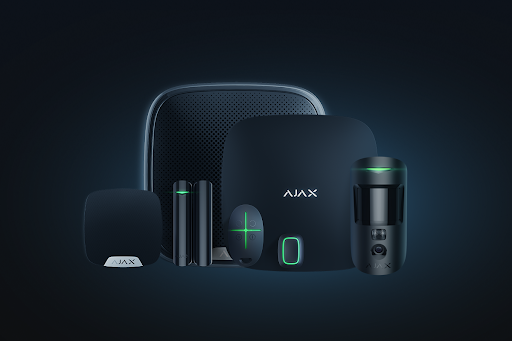 Ajax is a professional wireless alarm developed by Ajax Systems. Established in 2011, the company develops and manufactures professional security equipment. Today it protects over 700 000 users in 100+ countries across the globe. 
Ajax product line includes 33 gadgets for ultimate indoor and outdoor protection of premises. It features motion, fire, and leakage detectors, control panels (hubs), sirens, range extenders, keyboards, panic buttons, as well as devices for smart home automation. 
How does Ajax work
All-in-One Security System. Ajax is suitable for protecting any type of premise (apartment, house, office, store, or even production) and the site from break-in, fire, and flood. Motion detectors are pet-friendly and do not react to animals smaller than 50 cm. 
Photo verification of alarms is also available: MotionCam detectors with a camera eliminate security companies dispatching at false alarms. Detectors do not record 24/7 and take photos only when triggered which is good for privacy. For video surveillance, it's possible to integrate video cameras from third-party brands into Ajax.
Wireless. Ajax devices communicate via Jeweller radio technology, developed by Ajax Systems. Jeweller ensures two-way communication with an operational range up to 2000m. The data transmitted by Jeweller is protected with AES encryption; the devices cannot be spoofed due to authentication. 
In case of interference or jamming attempts, the system switches to a free radio frequency, as well as notifies the users and security company. Ajax needs less than 0.15 seconds to deliver an alarm.
Extra-Reliable. Ajax complies with the European EN 50131 security standard and is certified with Grade 2. The central units (hubs) operate on the proprietary OS Malevich that doesn't crash and cannot catch a virus. 
The system doesn't care about blackouts: detectors have built-in batteries that work up to 7 years, the hub has a backup battery that works for 16 hours. Ajax does not depend on the wired Internet at home — there is a SIM-card for cellular connection. 
Quick installation and configuring. All devices are connected to the hub via scanning the QR code with the Ajax app. This process takes less than a minute. The default settings are optimal for most objects. 
The system can be installed even after the repairs, without disturbing the interior, since there is no need to groove walls to lay wires. The devices operate for 5-7 years on battery power. 
The whole system can be configured remotely via the app — there is no need to visit the venue. Ajax sends a notification when the device does not work correctly or requires battery replacement.
Available for CMS. Ajax security system can be connected to all popular central monitoring stations via Contact ID or SIA standard.
App. There are mobile apps for users (iOS, Android) and software for specialists: Ajax PRO: Tool for Engineers and Ajax PRO Desktop, a computer application with alarm monitoring function.
Security Automation. The Ajax range includes wireless plug-n-play sockets, low-current and power relays that allow controlling power supply of the venue, or certain electrical appliances, or light via the Ajax mobile app. 
And thanks to automation scenarios, it's possible to configure the system to automatically resits threats: to automatically shut down the water at the first sign of leakage, cut power to an electrical cause in case of fire, configure home activity simulation, etc.
Contacts
Ajax Systems
support@ajax.systems