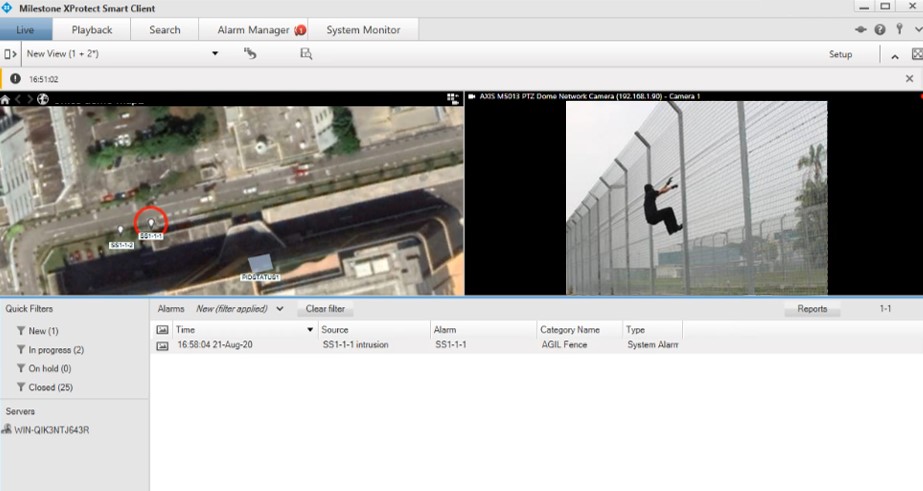 AGIL Fence Perimeter Intrusion Detection System (PIDS) has completed its integration with the Milestone XProtect 2020 R2 via the AGIL Fence Integrated Perimeter Alarm Management System (iPAMS). This integration provides a unified platform for advanced alarm monitoring and intrusion detection.
The AGIL Fence iPAMS serves as a gateway that allows the PIDS sensors to integrate into the video management software. Through the AGIL Fence iPAMS, the alarm signals from the sensors are converted from data into actionable insights and then displayed on the Milestone XProtect client interface. End-users can achieve complete situational awareness of the perimeter on a single platform without being on the field.
This integration allows remote monitoring of the entire perimeter, as well as all perimeter areas across multiple sites. The unified platform provides security operators with an overview of the premise with seamless direct streaming on both the web client and mobile servers. The Milestone XProtect R2 is capable of handling more users on the mobile servers, ideal for larger organisations and premises.
AGIL Fence Integrated Perimeter Alarm Management System on Milestone Marketplace.
*****
ST Engineering is a global technology, defence and engineering Group specialising in the aerospace, electronics, land systems and marine sectors. With more than 700 smart city projects across 130 cities, the Group continues to transform cities through its suite of Smart Mobility, Smart Security and Smart Environment solutions.
Riding on the innovation-driven AGIL Fence suite of intrusion detection solutions and our team of experts, we know what it takes to deliver unparalleled perimeter protection. AGIL Fence systems have been tested for use in airports and critical infrastructure including substations, military sites, correctional facilities and other high-security sites across the world. AGIL Fence, your trusted partner in securing key installations.
For more information on this announcement, please contact AGILFence@stengg.com.