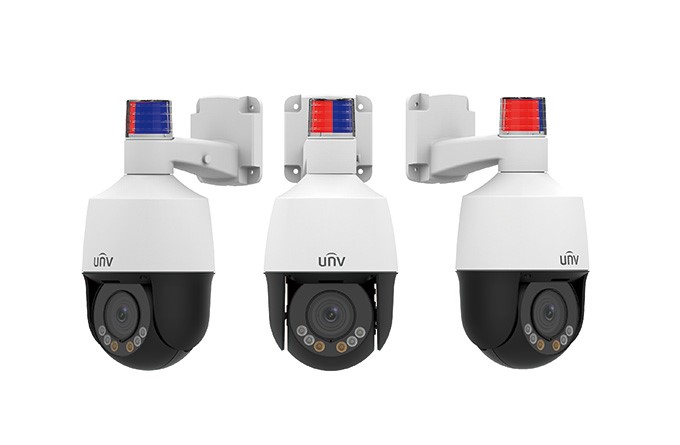 When it comes to PTZ, stereotypes are large, bulky, heavy, and costly. Therefore, finding a completely different outdoor PTZ has become a challenge for CCTV suppliers. meanwhile Most of video surveillance products are used to help restoring the events afterwards while products which can early warning plays more significant roles since they prevent events from happening. Based on above reasons, Uniview decide to release a new 5MP active deterrence outdoor mini PTZ camera IPC675LFW-AX4DUPKC-VG.
The purpose of active deterrence is that once a stranger enters the view of the camera, the strobe light will be triggered and the built-in speakers make sounds that fit different scenes. It allows the active deterrence camera to be widely used for many areas. It allows the active deterrence camera to be widely used for many areas. For areas dangerous for pedestrians, such as the entrances and exits of parking lot. Pedestrians should be careful to walk from the entrance of motor vehicles in case of accidents. It can warn if detected any pedestrian pass through the entrance. Besides, for perimeter detection purpose, it is suitable for villas, construction site and more. The built-in speaker will sound "You are in the warning area, please leave here as soon as possible" when an intruder wants to enter the forbidden site. Furthermore, it is also applied to customers welcome, key scene security, automatic broadcasting, etc… The active deterrence camera has truly enhanced monitoring functions and reduced the labor cost.
Benefit
Compared with traditional video surveillance, the active deterrence mini PTZ can stop the illegal events. Once an intruder is detected, the PTZ will trigger strobe lights and audio alarms. It is designed to expel the intruders before they attempt to enter the prohibited site.
16:9 aspect ratio
Compared with conventional 5MP resolution camera, IPC675LFW-AX4DUPKC-VG uses 16:9 aspect ratio instead of 4:3 which provides a full screen display.
7×24 protection
Powered by LightHunter technology, it has an exceptional low-light sensor with a minimum illumination of 0.01 lux which means it can provide clear images and record high quality video in full color and low-light level environments. Featuring a 4x optical zoom motorized lens, the PTZ enables to provide more details in a surveillance image.
Two-way talk
Furthermore, built-in MIC & speaker makes it easy for remote communication with people in front of the camera. It helps the guards to monitor and control more areas on time with camera itself without extra loudspeaker.
Strobe & Flood Light Warnings
Equipped with two sets of lights: a red and blue strobe light on top of the PTZ and a flood light located under the lens of camera, The strobe can be set between 1 and 600 times to flash anywhere. At night, the floodlights will turn on and move with the lens. This means that if automatic tracking is enabled, the floodlights will track the person who triggered the alarm. Both two sets of lights ensure that any potential intruders are warned and each movement of the target is recorded. In addition, once the floodlight is turned on, the camera will automatically switch from IR mode to color mode, which makes it fully functional
Applications
The camera is suitable for various outdoor environment, such as retail shop, residential, riverside and construction site, etc. It is very easy to install and use. What's more, the camera can also be customized and imported language and voice by customer, which makes it more flexible and interesting.