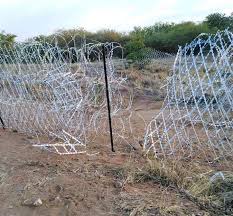 Public Works and Infrastructure Minster Patricia de Lille's use of "emergency procurement procedures" to augment security fencing at the Beit Bridge port of entry has not been entirely successful with the fence breached ahead of the deadline set for its completion.
A contractor was appointed on 18 March with the ministerial instruction to complete the work, valued at R37 million, in a month.
Johannesburg digital daily Times Live reports a picture circulating earlier this week showing a "gaping hole" in the barbed wire fence. De Lille acknowledged the fence was damaged and promised action to the publication. This included putting soldiers in the area.
Captain (SAN) Jaco Theunissen, communications officer of the Joint Operations Division of the SA National Defence Force (SANDF), confirmed soldiers on border protection duty were redeployed to the Beit Bridge area as an added security measure.
"Patrols in the Beit Bridge area have been augmented by motorcycle and mounted personnel," he said.
De Lille is reported as saying the fence was "badly damaged" and she was considering additional deterrents including "surveillance, sensors and alarms".
In response to another defenceWeb enquiry Theunissen confirmed "a definite and substantial increase in cigarette smuggling" across South Africa's borders with Mozambique and Zimbabwe. The question was asked following reports of increased availability of illegal cigarettes in South Africa during the coronavirus lockdown with official sales of tobacco products halted by national state of disaster regulations.
British American Tobacco SA (BATSA) warned smokers are "likely" to buy from underground traders selling illicit products during lockdown. The company was reported as saying this would be "a setback" to recent successes in clamping down on the illicit tobacco trade.
In a statement BATSA voiced concern about lifting restrictions on cross-border non-essential freight. This "could open the door" for illicit tobacco to enter South Africa.
Theunissen said soldiers on Operation Corona patrols had a number of "successes" stopping contraband cigarettes from making it to Gauteng metro areas adding "we suspect quite an amount of illegal cigarettes made it across borders".
There are currently 15 companies deployed on land border protection. South Africa is bordered by six countries – Botswana, eSwatini, Lesotho, Mozambique, Namibia and Zimbabwe.