Video Surveillance
Factors to Consider When Designing a Business Video Surveillance System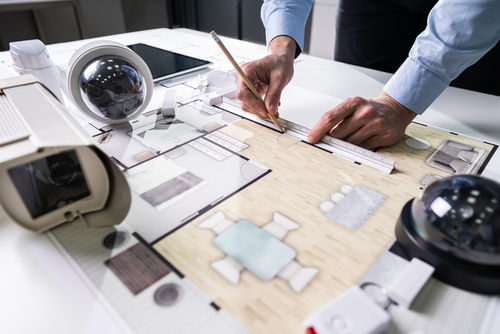 A high-quality video surveillance system is one of the most important investments your business can make, helping to keep your premises, employees, customers, and possessions safe. Yet, there are a wide variety of factors to consider, ranging from how many cameras you need, to whether or not you want a remote video surveillance system.
CCTV needs to be tailored to individual businesses, and this means designing the system carefully. Ultimately, your decisions here are going to depend on your own preferences, along with your business' requirements and circumstances. Nevertheless, in this article, we aim to help you identify the main factors to consider when designing a CCTV system.
Security Needs and Risks
The very first factor you need to consider when designing a video surveillance system for your business is the specific security needs you have. It is crucial that business leaders understand that "one size fits all" solutions are not viable, because the threats you face will be different from the threats other businesses encounter.
As explained in guidance published by the British Security Industry Association (BSIA), a key part of the initial planning process should be focused on conducting a threat, vulnerability, and risk assessment. This will help you pinpoint the specific security challenges your business faces, and from there, it becomes easier to design suitable protection.
Once you have a clear understanding of your needs, you can start to get more specific about what your video surveillance system will look like, including how many cameras you need, where they need to be positioned, who will require access to the data, and what level of image quality is going to be best for your chosen purposes.
Budget Restrictions
Beyond your specific security needs, you are also going to need to pay careful attention to your business' financial situation and work within the budget that you have available to you. This can be a challenging process because it will require you to be realistic about what you can afford and then prioritize the right aspects of your surveillance system.
A good way to reduce upfront costs is to invest in a cloud video management system. Generally, with cloud video surveillance, you will pay a monthly subscription fee to a service provider, in exchange for using their cloud storage, their surveillance software, and so forth. This also has the benefit of making costs more predictable.
It is also important to think about the total costs of running your CCTV system, rather than simply focusing on the initial outlay. Who will have access to the CCTV system? How much training are they going to need? Will you have to pay for software updates? What are the estimated costs associated with fixing hardware issues?
Deployment and Accessibility
Next, you will need to give careful thought to your preferred deployment method, with the two main options being on-site deployment or cloud-based deployment. On-site CCTV is the conventional approach, where you manage the system on your premises, while cloud-based deployment operates on a video surveillance as a service (VSaaS) model.
Aside from the ability to reduce upfront costs, one of the reasons many businesses are turning to a cloud-based remote video surveillance system is the greater accessibility provided. In particular, the cloud-based approach allows for remote access to live camera footage or to stored CCTV data, from anywhere in the world, using any compatible device.
Of course, there are a variety of additional benefits of using a cloud video management system, including the scalability and added security associated with cloud storage. Unlike with on-premises solutions, you will not need storage equipment, as data will be held securely in the cloud, with responsibility resting with the service provider.
Compliance with Regulations
The final major factor you will need to consider when designing a video surveillance system is ensuring it will be in compliance with all relevant legislation and regulations. Crucially, the specific regulations that will apply to your business could depend on factors like the industry you are in, where your business is based, and where the servers are located.
In the European Union, for example, the General Data Protection Regulation (GDPR) governs the use of on-site and cloud video surveillance. Even post-Brexit, the United Kingdom has retained the GDPR in domestic law as UK GDPR, under the terms of the Data Protection Act 2018, while many national laws in other countries are based on similar principles.
The legislation will typically cover factors like the purposes for which you can collect CCTV images and the length of time you can store them. Using GDPR as an example, businesses can retain data for as long as is required for the purposes for which the data is being collected. Yet, a system should be in place for deleting data once it is no longer needed. GDPR also requires that access to the data is only granted to those who need it to carry out their job.
The Last Word
Businesses need to invest sufficiently in a good surveillance system if they are going to keep premises, employees, customers, and equipment safe. The process of actually designing a surveillance system is multi-faceted, however, and will require you to carefully consider several key factors, including the threats you face and your budget.
On top of this, you will need to think about your preferred approach. Cloud-based systems are becoming popular among businesses and offer various advantages, including lower start-up costs and greater accessibility. Nonetheless, you will need to take the time to fully explore your options before deciding if this is the best approach for you.