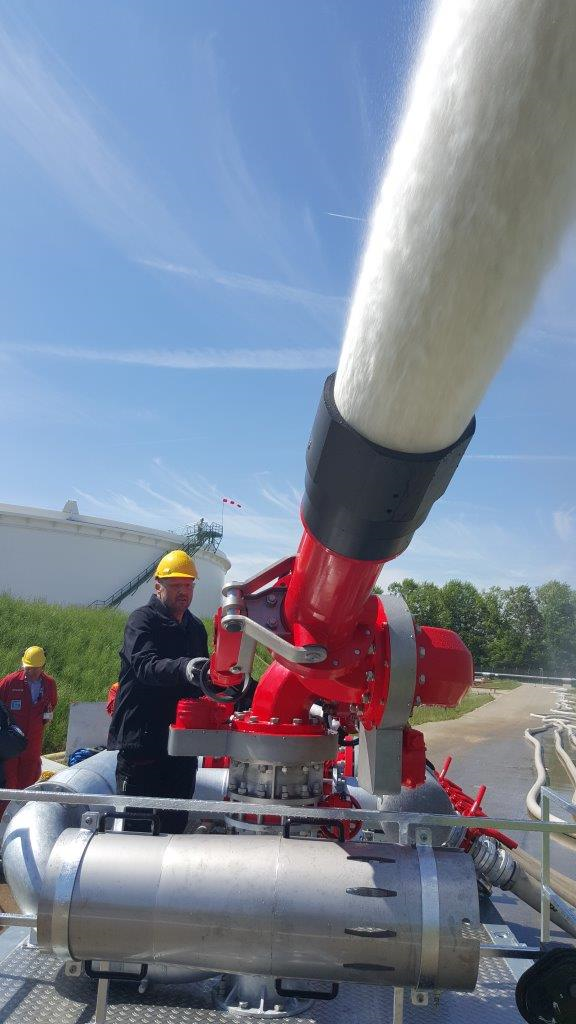 WHILE 1990 may be remembered by many for the fall of the Berlin Wall, the release of Nelson Mandela from prison, the birth of the World Wide Web and the launch of the Hubble Space telescope, amongst other 'firsts' for the Feldon father and son combination, was the birth of the DoseTech business.
Although DoseTech started life as a chemical dosing technology company, changes in both the local and international chemical dosing landscape necessitated a change in course and so a specialised company with a focus on foam dosing for the special risk fire protection industry was born.
Through partnerships with leading worldwide companies in the field such as FireDos of Germany, AKRON Brass and Mueller from the USA and Delta Fire UK, the latest special risks fire protection products and technologies are available to the South African and the southern African market through DoseTech.
In addition to specialised foam dosing equipment other products include monitors for various applications, from manually operated to fully automated and remote-controlled units, end-of-line nozzles, water valves, hydrants, foam, bund pourers, tank top pourers and rim pourers.
The company offers specialist advice on the selection and installation of its product ranges, as well as pre-commissioning and commissioning services, full maintenance contracts and customer training.
DoseTech has successfully introduced advanced methods of accurate foam addition to firefighting applications with benefits which include reduced foam wastage, easy installation, testing and maintenance, as well as lowered installation and operational costs.
Some of the most notable projects include the harbour fuel out-loading protection installation and refinery firefighting fixed and mobile foam applications, and the first exclusive foam trailer for refinery use in South Africa.
Cape Town's Foreshore
DoseTech has been responsible for two of the most significant fire protection projects for landmarks in the Foreshore area: the Christiaan Barnard Memorial Hospital and the Cape Town Harbour.
"When you are protecting a hospital full of patients and harbours that are stocked with fuel and other highly flammable substances, you need to ensure that you have the best equipment engineered to handle the worst-case scenario," said DoseTech's Managing Director Michael Feldon.
To achieve UL listing and FM Global approval, Feldon worked closely with process design engineers from both the Cape Town Harbour and the Christiaan Barnard Memorial Hospital, in addition to employing many of DoseTech's advanced foam dosing and fire protection products.
Netcare Christiaan Barnard Memorial Hospital
A key aspect of the Hospital access is its helideck where DoseTech was tasked with devising a fire protection system. This presented particularly complicated challenges, not only because of the varied fire protection technologies involved, but also because of the required coordination between Cape Town Fire and Rescue Service, DoseTech, and South Africa's national aviation and hospital authorities.
The new hospital's comprehensive fire protection design included foam dosing technology, foam concentrate, water cannons, and a combination of deluge and pressure-reducing valves.
The company's helipad special risk fire protection project has received recognition as a new industry standard.
Cape Town Harbour
DoseTech's expertise was called upon to address three different fire protection needs, each a complicated challenge relating to the harbour's petroleum operations. The first was a fuel ship off-loading wharf, an intricate facility requiring a multifaceted fire protection system.
To ensure comprehensive protection, DoseTech supplied equipment installed on the fire water ring main for the general fire protection systems, which includes fuel tanker loading bays and 5-inch flat hose water supply, for use on portable firefighting equipment. FireDos foam dosing equipment together with AKRON remote controlled monitors were employed.
The second and third tasks were to protect a fuel storage facility and a refinery, both of which required a large amount of fire hydrants to provide adequate response in case of an emergency. To protect these key areas, DoseTech installed Jones® J4060 BR and J6200 fire hydrants, complete with 2½" British instantaneous couplers and 4" and 5" pumper connectors.
DoseTech offered its valuable expertise at every step of the process, working side-by-side with on-site contractors, conducting valve and hydrant commissioning, and providing staff training for those responsible for overseeing proper operation of the fire protection system. "By combining our product experience with the location-specific expertise of harbour personnel, the Port of Cape Town now has a world class fire protection system in place for years to come," concluded Feldon.