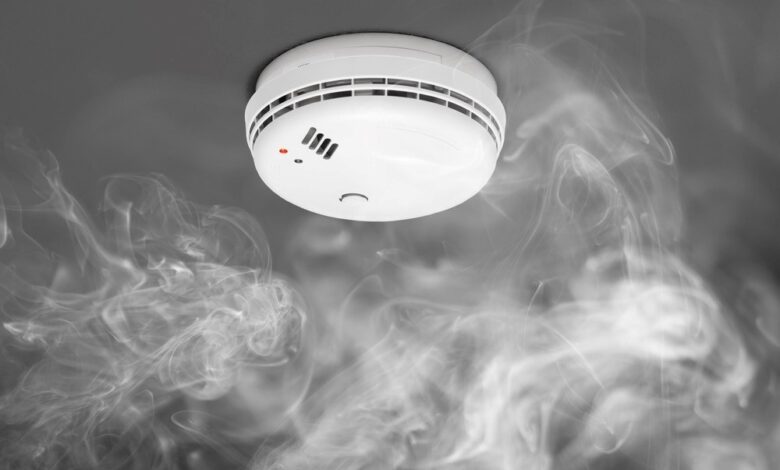 The Internet of Things (IoT) refers to technologies that apply computer processing and (typically) wireless connectivity technologies to physical and electronic devices to realize the network-enabling and digitization benefits of the internet in the physical world.
IoT technology is a key feature of the current wave of digitization. It is an underpinning technology for the Industry 4.0 model, in which industrial processes are monitored and controlled through a network using all of the discrete areas and movements in the process as input/output nodes.
IoT is also entering our homes, offices, places of learning, and public spaces. The same application of sensors, microprocessors, wireless data transfer, and efficient algorithms driving data-led decision making and performance improvement in industry enables data-led smart home and facilities management for the public.
Smoke detection can be a crucial feature of smart homes and buildings. Embedding smoke alarms with digital sensors, microprocessors, wireless connectivity, and the appropriate energy source to power these additions can improve the fire response of occupants, emergency departments, and automated or semi-automated systems – and ultimately save lives.
NB-IoT for Smoke Detection Systems
Recently, scientists from Qiqihar University College of Communication and Electronic Engineering, China, set out the benefits of narrowband (NB) IoT for smoke detection.
NB systems are designed to work with limited bandwidth. This makes them more reliable, as wireless connectivity can be more rugged and still have much more built-in redundancy to operate reliably. NB-IoT technology can greatly reduce the power consumption and cost of the equipment and increase its service life compared to traditional wireless networking technology.
In an example system provided by the Qiqihar team, the equipment for an NB-IoT smoke-detecting system was charged using polycrystalline silicon photovoltaic cells and energy was stored with supercapacitors. The photovoltaic charging circuit used the variable step length conductance increment method to track the maximum power point to improve the efficient use of solar energy in the system as a whole.
Low-Cost, Ultra-Low Power Consumption IoT
Smoke alarm systems are crucial for reducing indoor fires and protecting property. However, existing systems have drawbacks, including high upfront costs, difficulties monitoring working states, low data accuracy, and complex management requirements.
To address these issues, an independent smoke, temperature, and humidity sensing alarm system based on NB-IoT technology was recently proposed at a conference by scientists from China's Xi'an University of Science & Technology.
The scientists said their system was low cost; had ultra-low power consumption; featured equipment damage and electric quantity alarms, multi-party alarms; and employed unified deployment management.
The temperature, humidity, and smoke data would be cross-referenced to give staff a clearer understanding of the fire scene, leading to better decision-making by the human frontline.
After testing, the system was able to work on standby for around five years, making it suitable for remote, hard-to-access locations. The team said this long life also made the system good value for money compared to smoke detection on the market currently.
Integrating Water Sprinklers and Emergency Departments
Scientists from Asia Pacific University of Technology and Innovation, Malaysia and  Prince Sultan University, Saudi Arabia, integrated water sprinklers and emergency department alerts in an IoT-based smoke detection system to improve fire response.
They proposed a system that would integrate different sensors, including heat, smoke, and flame. These signals go through an algorithm to check the fire's potential before broadcasting the predicted result to various parties using a GSM modem.
To obtain real-life data without endangering human lives, IoT technology was used to provide the fire department with necessary data on the fire's exact location, make-up, and intensity.
The proposed system's main feature was to minimize false alarms using artificial intelligence (AI), which the researchers said made it more reliable. The experimental results showed the superiority of the proposed system in terms of affordability, effectiveness, and responsiveness. This was achieved partly by using the Ubidots platform, which facilitates faster and more reliable data exchange.
Sensing Smoke in Fog
IoT technologies typically face challenges in detecting smoke in a foggy outside environment.
To address this issue, an international interdisciplinary team from Sejong University in Seoul, South Korea, Instituto de Telecomunicações in Aveiro, Portugal, and Universidade de Fortaleza in Fortaleza, Brazil, recently proposed an energy-efficient system based on deep convolutional neural networks for early smoke detection in both normal and foggy physical environments.
The proposed method utilized the VGG-16 architecture, a convolutional neural network, due to its accuracy and time efficiency compared to other more computationally demanding networks, such as GoogleNet and AlexNet.
Experiments conducted on benchmark smoke detection datasets showed how the technique performed better than state-of-the-art methods in terms of accuracy, false alarm rate, and efficiency. The researchers said their system demonstrated a viable AI-based means of IoT-enabled smoke detection in challenging conditions.
Connecting IoT with Alarms and Lighting for Smart Evacuation
Evacuating a building from a fire in under twenty minutes improves survival rates dramatically. A recent paper proposed an IoT-based intelligent fire emergency response system with decentralized control to speed up evacuation and make it safer.
Sensors like smoke detectors, flame detectors, and heat detectors detect information on the progression of the fire and poisonous gas, and the building's vibrational state.
The system designs the path to evacuation points based on these conditions and guides evacuees to the best, safest way out with lights.
The system environment is composed of an Ember EM250 chipset, sensor modules, CDD controller, a communication module, a power module, a CSD controller, LED displays on walls and doors, and alarms.
Bidirectional data integration can occur as soon as fire or smoke is detected, with cooperation between the building owner or facility manager of the relevant building and the emergency services.