Access Control
Know Your Local Building and Fire Codes for Security Turnstiles and Doors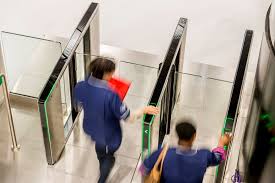 The evolution of modern security entrance code compliance began in flames and tragedy following the 1942 fire that consumed Boston's premier nightclub, the Cocoanut Grove. It took less than 15 minutes for 492 people to die and another 166 to be injured in the deadliest nightclub fire in U.S. history. This was due to the main entrance being a single revolving door that became clogged and broken when patrons tried to escape.
The fact that today, nearly all corporate, hospitality, retail and government buildings employing a central revolving door today also use adjacent swinging doors within 10 feet is a direct result of this historical tragedy.
Security entrances, such as turnstiles and security revolving doors, are specialized types of entrances that work with access control systems to stop unauthorized entry in all types of buildings. They're usually not intended to be the only means of emergency egress from a facility. But, in certain cases, they can contribute to your emergency egress plan and help ensure a safe evacuation.
Understanding Turnstile Egress
Much like revolving doors, turnstiles are also subject to strict standards. Turnstiles that do not exceed 39 inches in height can be credited for partial egress capability (up to 50 persons) but may not be the sole means of egress (there would need to have doors or gates with approved panic hardware installed on them).
Tripod turnstiles and full-height turnstiles can be set to freely rotate in an emergency to allow egress, however, IBC and NFPA codes do not permit these types of turnstiles to be placed where they would obstruct any means of dedicated pathway for emergency egress.