Technology
Paxton Introduces Next-Gen Touchscreen Monitor, Wireless Door Handle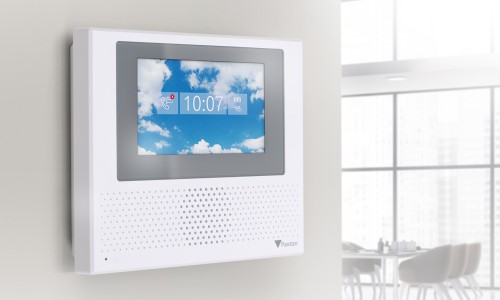 Paxton Access, a security solutions provider, has launched the latest additions to its range of wireless access control solutions and video intercom product line.
First is the Entry Standard monitor, which the company describes as a versatile monitor that offers a feature-rich and cost-effective solution for a range of applications — from schools and hospitals to offices and apartments.
The monitor features full-duplex voice communication and a 4.3" capacitive touchscreen. It can also be quickly and easily installed either on a wall or desk mounted with or without a handset, according to the company.
The user interface with call and event log can be personalized with 14 different theme designs. A smart new call snapshot feature enables users to see missed calls.
The whole Entry video intercom system consists of three components that auto-detect on set up; external panel, interior monitor and door control unit.
Paxton says the monitor is a real plug-and-play solution that can be used with a range of panel options — standard, premium and vandal resistant — making the whole system flexible for a wide variety of sites.
The Entry video intercom system is fully compatible with Paxton's Net2 networked access control system, as well as functional as a standalone solution. It comes with Paxton's five-year warranty.
"The second-generation Entry Standard monitor blends contemporary aesthetics with high-quality materials and clean user interface. Designed to fit into any environment with a variety of different themes, it allows the user to personalize the monitor to suit their tastes," says Jeremy Allison, Paxton's senior product manager. "The monitor features a glass-covered capacitive touch screen and high-quality front-facing speaker. Designed with simplicity in mind for both the installer and system user, there is no programming required."
Available in black or white with an Eclipse or Galaxy handle, the PaxLock Pro-Latch is suitable for use on internal doors and a range of premises, according to the company. It is well-suited for education and healthcare facilities, as well as commercial premises like corporate offices, warehouses and retail outlets.