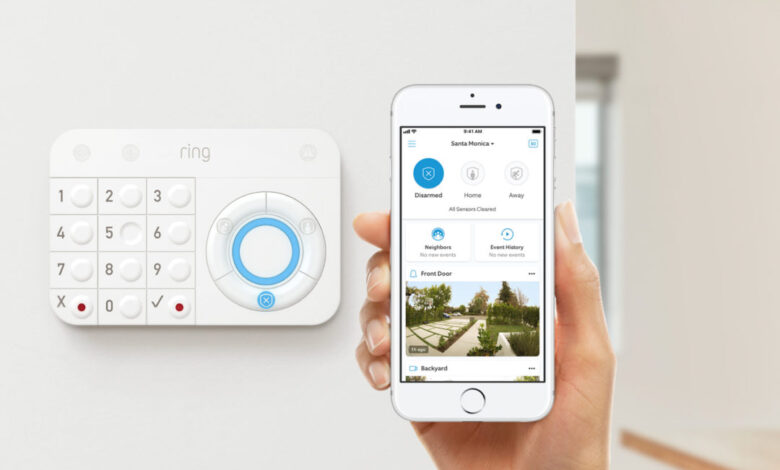 The Ring Alarm is an excellent option for anyone who wants an affordable and easy way to arm, disarm and monitor their homes or office through their smartphone. Thanks to its modular design, you can also purchase additional sensors to cover your property in a way that suits you – and these extra sensors and extenders only cost a few hundred rands each.
Product breakdown
Available for purchase from MiRO's online store, the Ring Alarm Kit is composed of the following:
Base Station: The primary station keeping your alarm kit online and connected to your devices. It has a convenient battery capable of delivering 24-hour uptime, ensuring you remain protected during power outages.
Keypad: This is your control component. It allows you to control your alarm system from within your house, accessible by you and your family. This keypad can arm, disarm, and trigger a panic response.
Contact Sensor: Mountable on the door and window frames, the contact sensor triggers an alarm when the door or window is open. With this alarm kit component, you can easily keep track of any open and closed doors or windows around your house.
Motion Detector: The power of intelligent motion detection in the palm of your hand. The motion detector allows you to receive instant notifications on your Ring App when movement is detected around the house. It is also pet-friendly. The built-in smart features can ignore harmless activity from your pets but not intruders.
Range Extender: To ensure that your whole house is covered with a Ring of protection, the extender broadens the coverage of the signal emitted by the base station. For example, when one or two of your sensors are mounted in the garage or toolshed, the extender will pass on the signal transmitted by the station to them.
To complete your home security, this innovative kit is compatible with Ring's security cameras including video doorbell and floodlight cameras.
Keep your family safe with Ring, order your home security kit today or speak to one of our experienced security consultants at sales@miro.co.za or +27 12 657 0960