Perimeter Security
The role of smart technology in monitoring the status of entrance and perimeter protection systems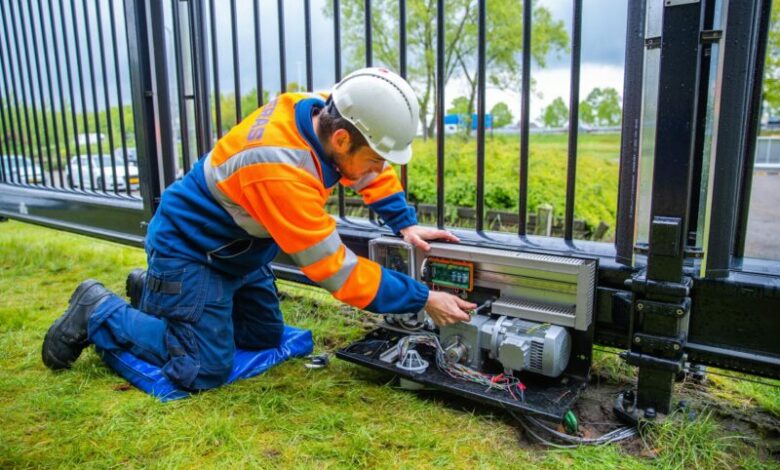 The servicing and maintenance of entrance control systems – such as automatic gates, traffic barriers and even perimeter fencing – aren't always a priority for the owners or operators of distribution hubs, warehouses, data centres or other sites of strategic importance.
Oliver Cook from Heras explains why smart technology is making it easier to monitor the real-time performance of entrance control systems, and how it can flag up servicing issues before a system fails.
The mere mention of servicing and maintenance – especially for the installation of any new commercial machinery, equipment or systems – is something that more often than not gets kicked into the long grass. That's because there's general cynicism around the issue, which is often driven by costs. If a machine or system is new, "why should we pay a premium just in case it breaks down?" is the question that is often levelled against us.
My resounding response is always two-fold: not only do servicing and maintenance equate to business "peace of mind" but they actually save costs.
Four pitfalls of a lack of maintenance
Before we can look at how smart technology is benefitting maintenance, we have to look at the pitfalls of a lack of maintenance, of which there are four main ones:
Compliance with current standards
Arguably, the single most important reason that site owners should look into servicing entrance control systems is to ensure that they are compliant with current standards and regulations.
Heras states: "Keeping your installation in optimum condition is vital to protecting both the installation itself and the people who use it. All our electric installations bear a CE label, meaning they comply with European legislation. Heras confirms through the CE label that the installation has been tested or assessed according to European norms. If necessary, we modify aspects or repair minor defects so that your installation continues to meet these norms."
Any business that doesn't have gates and barriers that are compliant with current standards is leaving itself wide open should incidents or accidents occur on the site that lead to damage, injury or something even worse.
Cars are serviced annually, so why not fencing and entrance control?
The comparison with servicing vehicles is an obvious one, but it makes the point very clearly. A vehicle that is driven regularly and not serviced is far more likely to start underperforming and could eventually break down. It's the same for traffic barriers, automatic gates and other perimeter systems.
And if a vehicle breaks down, the driver can call their breakdown service and get a reasonably speedy response. The same can't be said for entrance control engineers.
A false economy
Not having a servicing and maintenance contract may save a business a bit of money in the short term – the business may even be lulled into a false sense of security if the entrance control system is reasonably new.
But it's a false economy for two reasons. The first is that bills are invariably higher if something does break down because, typically, more parts need replacing and more work is involved to fix the problem. The second is that the lifetime of a product is reduced if it's not looked after properly. Heras has seen plenty of examples of gates and barriers that should have remained operational for longer – in some cases up to a third longer – if they'd been regularly serviced.
Business disruption
Some businesses simply cannot afford to have any downtime caused by the breakdown of automatic gates or traffic barriers. The most obvious example is the food distribution hubs for the UK's supermarkets. Their logistics are hugely complex operations and rely on everything running like clockwork.
Another good example is related to the turnstiles at sports stadiums. Ahead of the start of each season, football clubs have to have their turnstiles tested and serviced as part of a process that regulates a club's ability to host matches.
Connect
Practical advances in smart technology mean that some of the historical objections around servicing and maintenance are becoming obsolete – as systems such as Heras Connect are becoming a key, integrated feature of the management tools for site entrance control systems.
It is a cloud-based portal that offers real-time insights into the status of an entrance control system, including swing, sliding and bi-fold gates, with remote monitoring of user access and automatic alerts and notifications via smartphone, tablet or PC.
Connect provides information about the status of entrance solutions provided by both Heras and other suppliers. It monitors all key components 24/7 and translates this monitoring into practical information for facilities managers.
In short, smart applications can save you a lot of time and money, extend the life of your access solution and reduce the risks of unsafe situations.
A lot of the feedback we are getting from customers suggests that they like the fact that all the key components in the Connect system "talk" to each other, and the system also integrates with our four support levels: Reactive, Essential, Premium and Premium VIP.
At one end of the spectrum, Reactive is on a no-contract basis and offers repair and maintenance call-outs but no technical support or discounts on parts and labour. With Reactive, an engineer will attend the site, normally within 96 hours of the fault being reported.
At the other end of the scale, Premium VIP is a fully customisable service that offers two maintenance inspections each year, technical support, discounts on parts and labour and a 12-month warranty on repairs. An engineer will attend the site, normally within 24 hours of the fault being reported, and monthly key performance indicator reporting is provided.