Featured
Integrated Security
Verkada launches new product line, Verkada Intercom, as well as expansive new updates across its entire platform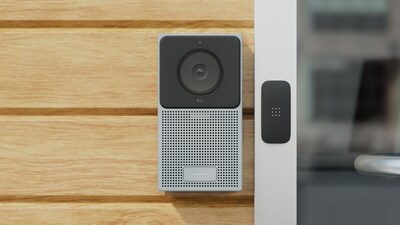 Verkada, leader in cloud-managed enterprise building security and management, today announced the newest addition to its product line, Verkada Intercom, and a range of updates that expand the reach of the Verkada platform.
Verkada Intercom, a reimagined building entry and communication experience that gives front desk staff the ability to manage access and answer calls from anywhere
Verkada's next-generation of bullet cameras, built for harsh conditions and distant scenes with even better image quality, improved analytics and an easier installation experience
Verkada Helix, a powerful new enterprise video search and integration engine
Even more powerful license plate recognition (LPR) capabilities, now supporting up to three lanes of traffic at speeds up to 80mph
Verkada's new horn speaker, giving customers the ability to respond in real time to deter intruders
An enhanced Command interface, making it even easier to navigate the platform and giving customers even more features for visibility and control
New Guest integrations, making it easier for front desk staff to streamline security screens with Checkr
"Each of our products is intuitive and powerful in its own right – but connected together on the Command platform, they provide best-in-class capabilities to protect people and places," said Brandon Davito, VP of Product. "All of the new products and features we're introducing today – from Verkada Intercom and our new talkdown speaker to our enhanced Command interface – work together to empower our customers to not only keep their organizations safer, but also to transform the way they operate."
Introducing Verkada Intercom, providing more flexibility for modern workplaces
Verkada Intercom, the newest addition to Verkada's product portfolio, empowers front desk staff to make smarter entry decisions. With the new video intercom, customers can answer calls from anywhere with sharp video, clear audio, four smart receiver methods and intuitive management and security tools in Verkada Command.
Every button press and intercom call is recorded on-device for easy retrieval and historical review for up to 30 days, and comes with the full suite of Verkada features that Verkada customers already use, including people analytics, motion algorithms and cloud archiving.
Introducing the next-generation of bullet cameras
The second generation of Verkada's bullet cameras deliver better image quality, improved analytics and an easier installation experience. The bullet cameras are designed to capture video in harsh conditions and for distant scenes. With two wide-angle models and two telephoto models, the refreshed bullet cameras have up to 3x optical zoom and enhanced processing power.
Verkada also introduced:
Enhanced License Plate Recognition (LPR) capabilities:

Verkada can now support LPR across three lanes of traffic with a single camera at speeds up to 80mph.
Verkada also introduced a completely new cross-camera LPR search experience where customers can see all plates that have been detected, assign names to a license plate for easier searches and review historical footage, conduct motion searches and create archives.

Helix, the powerful new enterprise video search and integration engine: Helix allows customers to provide context to their video security footage by indexing Verkada camera footage with data from third-party applications. When customers import their own enterprise data into Command – such as transactions from a point-of-sale system – they can use it as a filter to quickly search through events on video. Helix is compatible with all camera models and can be easily set up via Verkada's public API endpoint.
Adding a new horn speaker to our Alarms product line
Law enforcement resources are stretched thin, so it's not always possible for police to arrive in time when an alarm is triggered – making deterrence measures critical to stopping intruders before they can do damage.
This is why Verkada introduced the new Horn Speaker that allows organizations to talk down to intruders directly from a camera feed in Verkada's Command dashboard or mobile app. With the addition of an Alarms License, organizations can also have professional monitoring agents talk down to intruders, or configure a pre-recorded message to play as an automated response.
Enhancing Verkada's Command interface, making it even easier to use and giving customers even more features for visibility and control
Verkada updated its user interface to make it even easier to manage all users, devices and alerts across the Command platform. This new look and feel will better accommodate its growing portfolio of integrated security products, and ensure our platform continues to be intuitive and easy for customers to navigate. Further, new language options – French, Spanish and Japanese – were added to meet the needs of its growing global customer base.
Additionally, several new features have been introduced to give customers more visibility and control:
Live Viewers: For more visibility into how Verkada is being used across organizations, Live Viewers displays each person currently viewing a camera in the top right hand corner of the Camera page. The clickable Live Viewer icons will show additional context like the viewer's name, email and IP address, and length of the stream session.
Customizable privacy & security disclosures: Customizable QR codes and associated webpages have been created so visitors can easily understand what physical security technologies are being deployed at an organization – and how they are being used. Once the disclosure is generated, it can be shared in the form of a link embedded in an email or printed as a QR code and posted on the premises. This allows individuals entering a Verkada building to scan the QR code and quickly learn, for example, if video is being captured by cameras on the premises.
Introducing new Guest integrations to streamline security screens
By integrating with Checkr, Verkada Guest customers can now more quickly, accurately, and securely manage visitor access with background checks, as well as registered sex offender checks, during check-in. Potential matches are returned for front desk staff to review before making entry decisions. Individuals who do not pass the screening can be immediately added to an auto-deny list.
About Verkada
Verkada is the leading physical security platform to protect people and places. Designed with simplicity in mind, Verkada's product lines – video security cameras, access control, environmental sensors, alarms, intercoms, visitor management and mailroom management – provide unparalleled building security through an integrated, secure cloud-based software platform. Over 15,000 organizations across 63 countries worldwide trust Verkada as their physical security layer for easier management, intelligent control, and scalable deployments. For more information, please visit www.verkada.com.