Video Surveillance
Hikvision announces technology partnership with Yeastar for IP-based video intercom integration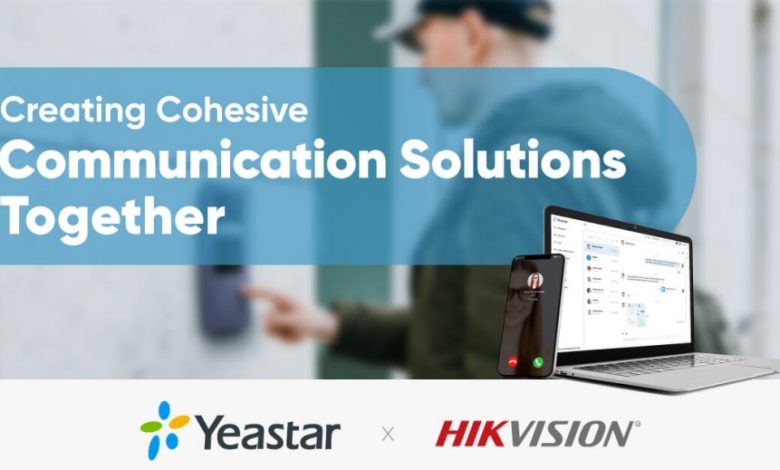 Hikvision, an IoT solution provider with video as its core competency, announced a new technology partnership with Yeastar for IP-based video intercom integration. The integration provides a convenient solution for customers in small-to-medium size enterprises (SMEs) to control and manage their intercom systems remotely, as well as communicate with visitors.
For SME customers, when the employees are out of the office, welcoming visitors is nearly impossible. But integrating Hikvision's video intercom with Yeastar's IP PBX system enables customers to easily and remotely communicate with visitors. Even the receptionist who is not at a work station won't miss company visitors, since the integration provides SMEs with visualized call management, video communications, and anywhere-anytime connectivity – performing across web browsers, mobile devices, and desktop computers.
With the integration, SME customers can:
See who is at the front door and answer from anywhere
 Converse easily via IP video phone and even open a door
Auto-forward calls initiated from the door phone to a mobile number
Avoid expensive and separate paging servers – the PBX built-in paging system easily broadcasts from the devices customers prefer (IP phone, mobile or PC)
"We are happy to announce this partnership with Yeastar, which will expand the scope of Hikvision's intercom solution and create more value for our customers. More collaboration across the industry is benefiting the market with greater variety and functionality. Hikvision will persist in openness and work closely with technology partners to build a strong and mutually beneficial ecosystem," says Adler Wu, Global Technology Partner Alliance Manager at Hikvision.
"Hikvision has a proven record of providing high-quality IP-based intercom solutions, and we're pleased to now call them an official Yeastar technology partner. With Yeastar and Hikvision, our mutual customers can take advantage of a market-leading, award-winning business phone system and also benefit from an integrated PBX-Intercom solution that improves productivity, streamlines operations, and cuts overheads," adds Prince Cai, Vice President of Yeastar.