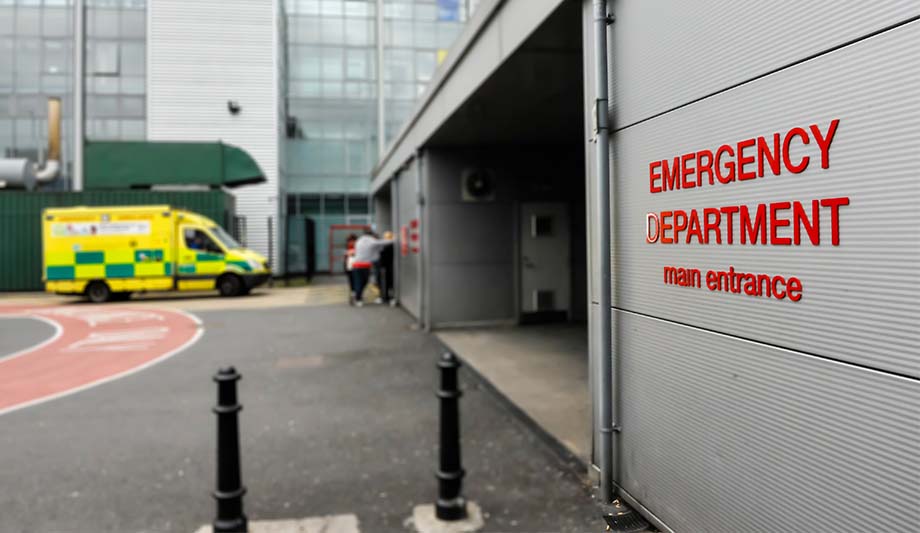 COVID-19 has sparked a flurry of criminal activity across the country, with a particular increase in petty crimes perpetrated against UK healthcare facilities. Bike theft, slashed ambulance tyres and stolen oxygen canisters are just some of the misdemeanours which have significantly grown in frequency since the coronavirus lockdown began in March 2020.
Given the constant, essential work carried out by health services, it's clear the utmost must be done to protect its physical assets, and staff, from physical attack.
Fundamentally, it's the responsibility of the facilities managers and specifiers to incorporate and carefully balance physical security strategies around healthcare sites to protect patients, visitors, property and assets. The challenge is that many of these sites are continually increasing in size and complexity to meet the higher demand from the population. Fencing, gates, storage enclosures and access control are part of a solution in securing this service sector to enable it to operate effectively 365 days a year.
Effective access control
Hospitals are fast-paced environments where life and death outcomes often hang in the balance of only a couple of minutes. Efficient, seamless access is therefore key. All gates and access points around the perimeter must be assessed and considered and these access points should be installed and controlled centrally, or regularly monitored.
Fencing, gates, storage enclosures and access control are part of a solution in securing this service sector
Consider the types of vehicles that require access; the appropriate solution should ensure that, where necessary, emergency vehicles can get in and out of the site unhindered.
Effective design for maximum security
If automated gates are specified, underground operators are highly recommended to remove any visible signs of surveillance on display. When designing pedestrian and vehicular access: gates should be DDA (Disability Discrimination Act) compliant. Crucially, the design of fencing and gates must accommodate rapid evacuation and access for emergency services.
With regards to the car park, it may require rising arm barriers or bollards to secure it. These solutions control access and separate pedestrians from vehicle traffic whilst protecting different buildings, such as specialist units and emergency wards.
Promoting wellness through aesthetics
Creating a welcoming environment is a core priority when specifying security options for hospitals. Razor or barbed wire may be effective deterrents to potential trespassers, but they create an intimidating and unwelcoming aesthetic, far removed from the sense of wellbeing these developments should promote.
A solution that offers both visual appeal and high levels of security is vertical bar security fencing or welded mesh panels. Both provide strong boundary protection and excellent visibility for surveillance, while offering greater protection than other alternatives.
Recreational areas
For areas requiring a 'softer' appearance, such as gardens and outdoor recreational areas, timber fencing is an ideal option. Timber has a natural, welcoming appearance and promotes a sense of wellbeing and privacy. As well as offering a pleasing aesthetic, it can also provide a high level of noise protection. This makes it well suited for acoustic fencing, which can improve recreational and recovery areas by protecting them from high levels of noise, transforming them into little oases of calm ideal for recuperation.
Outdoor storage areas
Hospitals and other medical facilities produce a large amount of medical waste which requires secure outdoor areas and bin stores to hold hazardous materials on-site before they're taken away. Hospitals have a responsibility to ensure these areas are secured using risk-appropriate fencing to avoid potentially dangerous materials getting into the wrong hands.
Risk assessments
Creating a welcoming environment is a core priority when specifying security options for hospitals
Risk assessments are key to ensuring a risk-appropriate solution is installed. For facilities at risk of criminal activity, products accredited by standards including Secured by Design or the Loss Prevention Standards Board's LPS 1175 are proven to reduce the likelihood of crime. It's also best practice to locate storage areas in areas away from climbing aids such as lamp posts or trees. The fence should also be high enough to deter attempts at climbing.
There are many effective and easy-to-install options on offer when it comes to specifying security for healthcare infrastructures. It is important that each site is judged individually. Every institution is different and will require a unique plan of security structures to ensure it is safe for all personnel.