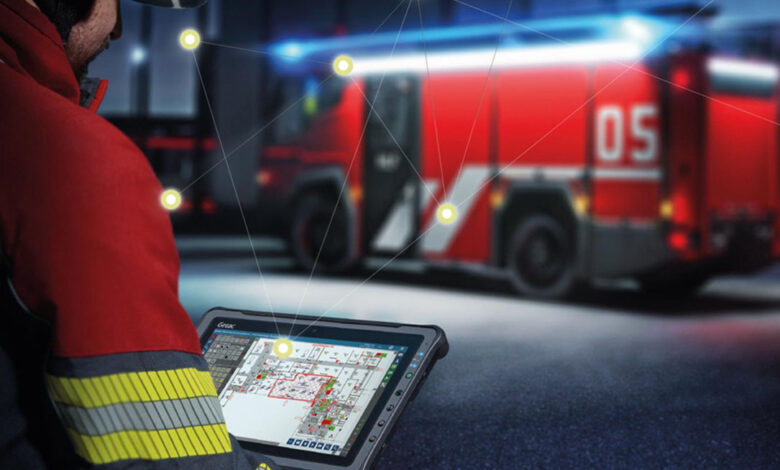 The operational scenarios in fire prevention and disaster control are becoming increasingly complex. We live in a world in which not only new technologies are spreading more and more rapidly in society, but also, compared to previous decades, the environment is changing particularly rapidly. This makes it necessary to find answers and tools to these new challenges and situations just as quickly. In recent years, one way of dealing with this has emerged under the omnipresent term digitalization. With a brand new toolbox full of digital tools, it is possible to face the increasing complexity, create a good overview and simplify things again. That is exactly what is needed for good decision-making under pressure during an operation. Digital Enabler & Digital Solutions work together at Rosenbauer for the definitive exploration and development of practicable solutions.
On the one hand, the role of the Digital Enabler is to observe new trends and technological developments, but also to put them on the test bench based on the new requirements and needs of authorities and organisations with safety tasks (BOS). This means that the Digital Enabler is a customer ambassador in the truest sense of the word, and works to identify tangible benefits for our customers and make their potential realisable. Current surveys and studies ("Digital transformation in civil protection", 2020, and many others) show, for example, that digitalisation and networking are increasingly demanded in this area as well. Uniform interfaces, networked IT systems and the trained use of them are among the constant requirements. Mainly because it can provide valuable new services in the field of information management for emergency crews and simplify everyday working, which is currently characterized by ever-increasing bureaucracy and regulations that have to be complied with.
For several years now, Rosenbauer Digital Solutions has been pioneering the implementation of identified potentials in specific products for emergency crews. Here, the combination of traditional products with new solutions was sought early on and a wealth of experience was built up. In the process, the portfolio was constantly adapted to current requirements and expanded with new digital product groups. Digital Solutions creates added value by networking the Rosenbauer product portfolio. Our "connected" products increase the benefits of vehicles and equipment in operations and offer numerous starting points in sales for cross-selling and strengthening the Rosenbauer brand with customers.
And it is networking that has become an indispensable tool at BOS. Command centres coordinate emergency crews remotely, and a wide variety of components such as vehicles and drones are incorporated into a network that brings together current facts and messages about the scene and presents them in a processed form. In operation, all relevant information such as fire protection plans, hazardous material data, etc. is always available and can be accessed and used by all rescue services anywhere and at any time. Whether in the command centre, in the vehicle, on the operational software specially developed by Rosenbauer or via app on your own smartphone and any other smart device. Networking also has another function: that of communication among members of organizations that are not involved in alerts. A multitude of tasks, such as training management, fleet and equipment management, as well as the preparation and follow-up of operations, have to be fulfilled in "day-to-day operations." Here, too, state-of-the-art tools help to make the processes more efficient and effective.
A specific example of the implementation of digital use cases, which have led to successful products based on intensive preliminary work in the area of innovation, is as follows: for example, in the case of unmanned aerial vehicles for emergency response organizations, "connected drones" (see above) were turned into a Rosenbauer product from initial expert interviews and a jointly prepared business model. Additional features that might serve as a unique selling point in the future are currently being examined and tested. This shows that the field of drones can and will be further expanded, not only in its economic but also technical scope. In so doing, new potentials are constantly being taken into account, as well as customers' wishes.
With all these new solutions, it is important that even if many novel technologies are used, they are still as simple and self-explanatory as possible. Usability and simplicity are the tools to ensure that "high-tech" can realize its full potential. In this respect, it is of particular concern to us that digital products can be used easily and intuitively by all crews. This is the quality that people have been used to from Rosenbauer products for such a long time, which is also retained in our digital products.
The focus continues to be on developing useful solutions for the benefit of our customers. This is achieved through our broad overview of the latest technological developments in order to create future-oriented and practical products for emergency crews.
In keeping with the motto "stay connected," we would be delighted if you could share your specific challenges with us, so we can brainstorm and come up with beneficial solutions together.