Intruder Detection
Best Practices for Video Monitoring Services
How integrators can expand their monitoring offerings by deploying camera systems for automated outdoor intrusion detection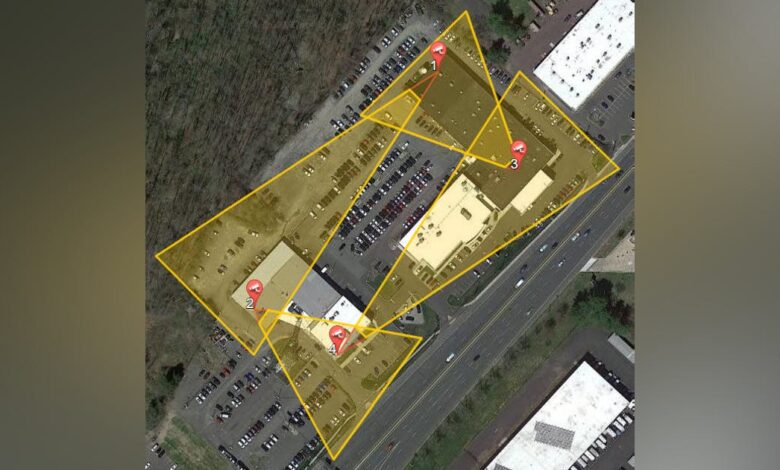 Video monitoring is transforming outdoor security. The same systems first designed for protecting critical sites are now available for solving common business problems like theft and vandalism.
Cameras designed for intruder detection are smaller, cheaper and more reliable, and this trend towards video monitoring in the outdoors brings value to both end-users and the security channel.
For the end-user, the advantages are high levels of security protection with low monthly fees, extending automated protection to fenced yards, construction sites, car dealerships – any business with outdoor materials vulnerable to theft or vandalism. For the integrator and monitoring center, it is an opportunity to expand long-term relationships that heightens their value as a security provider.
Most excitingly, the revenue potential that can be derived from an existing base of satisfied clients represents a huge opportunity with minimal customer acquisition investment. Today's more robust and reliable technology also enables taking on bigger security challenges that can further grow a security business.
Remote Intrusion Detection
The capability to automate intruder detection is driving interest in outdoor services. In essence, the technology is virtualizing physical guards while simultaneously enhancing security effectiveness. The result is an ability to increase security while drastically lowering its cost, which is obviously valuable and attractive to an end-user.
Like any smart security solution that will be remotely monitored, the key to its viability as a business service comes down to a foundational need – these systems must detect the presence of intruders with outstanding reliability, they must be easy to use and manage, and they must deliver dependable alerts without overloading a monitoring center with unwanted signals.
How We Got Here
In the early days of video monitoring, the strategy involved supplementing guards with cameras. Instead of people driving around a facility, someone could watch video monitors from any location. We know now that even the most well-intentioned guard will quickly tire when staring at video screens hoping to "catch" an intruder at just the right time.
The next step in the video security services evolution came in the form of video verification. This approach combines a detector – like a door or motion sensor – with a co-located visible camera to determine the source of the alarm. When a sensor is triggered, the camera begins to record, capturing the moment.
Video verification has been a great boon to the security services market, reducing false activations and only sending police where there is a validated, clear threat. For indoor applications, where the environment is stable, these "binary" solutions of a sensor and camera work well.
Outdoors is a different story. For one, video verification systems require well-lit environments to give an operator the details to see and make a correct response decision. Further, these systems are not able to distinguish between random movements from animals or a wind-blown object. While they rarely miss an intrusion, they can overwhelm a monitoring center with false alarms.
"Outdoor applications are not like traditional indoor systems, where you set an alarm and everyone leaves a building," explains Lucas Ingala, founder and CEO of Watchmen Security Services, a SightLogix partner specializing in outdoor video monitoring. "Outside is filled with activity – trees blowing, snow, rain – and the next day it is a different environment entirely."
False alarms also have a financial repercussion. Monitoring centers must use extra manpower to review and reject a large number of signals, which, in turn, reduces security effectiveness.
The most exciting advancement in video monitoring is video intrusion detection. This approach combines video cameras with analytics software, making the video itself the source of the alarm, so that the objects and people that are moving within the video themselves trigger the alert.
Such "smart cameras" watch outdoor scenes automatically, and alert central stations with video details when a break-in happens. They offer what integrators and customers value most – an affordable security solution to protect businesses as dependably as an indoor alarm system.
How to Tackle the Outdoor Opportunity
Even with the market potential, security integrators may be unsure about the best way to approach the outdoors. Ingala suggests finding the right solution and developing a partnership with the manufacturer itself.
"You want a company with cameras that are designed specifically for the outdoors and work seamlessly with the central station system," Ingala explains. "It is a cohesive approach where the central station, the integrator, and the manufacturer all have to work together, because the outdoors is so different."
The three essential requirements when considering an outdoor video solution are: Outstanding detection performance that will not miss an intruder; reliability (not just once or twice, but over and over); and it must be easy to use, implement, and easy to communicate to customers."
"Importantly, you want to make sure that you are getting something that eliminates as many false alarms as possible and identifies a true threat," Ingala adds. "You don't want to cry wolf with false alarms; otherwise, you put a major burden on [monitoring center] operators, and the police are going to quit taking it seriously and may be slower to respond."
The key for reliable intruder detection performance is to start with a system purposely designed for outdoor use, which in many cases is thermal video. With their ability to sense heat instead of light, a thermal camera is almost a perfect human detector that sees through the dark, in all weather, and inherently combines the detector with visual verification, for real-time awareness. Thermal will ignore many of the distractions that might trigger false alerts with other outdoor solutions.
A thermal camera is akin to a blanket of thousands of sensors spread over an outdoor area, updated at 30 times per second – providing a rich amount of information for an intelligent camera to detect an intruder reliably.
Matching an Organization to the Technology
Once the product/technology has been selected, the next step for integrators is to build an organization that can deliver the solution. "Ideally, you want your leadership team engaged on the strategy," Ingala says. "You want your customer care team briefed on the technology and how it works. In essence, it helps to align the organization towards the outdoors as its own vertical market."
When it comes to presenting the solution to customers, while there are higher costs associated with video compared to indoor systems, Ingala suggests communicating the security value and pointing out the financial risk of being exposed. "Many of our customers have valuable assets stored outdoors – they are having catalytic converters stolen, or construction equipment taken, and this is a significant pain that until now has not been easily addressed," Ingala says.
Once his sales team is able to demonstrate how reliable a smart intruder detection system can be, Ingala says it makes sense for customers, and they pretty quickly see the value.
Ingala suggests auto dealerships, scrap yards, and construction sites as good initial customer options. Additional applications include municipal and government sites, fenced lots, cannabis grow facilities, rooftops, and even substations. "The market is expansive, because there are so many places with outdoor assets," he adds.
Another of the inherent advantages of a video solution is that it provides more robust volumetric protection. If you compare outdoor detection to cybersecurity, once someone gets over a fence, it is the same as breaching a firewall. If your customer can blanket the area with automated video protection while avoiding false alarms, it becomes the foundation for a resilient solution.
Adds Ingala: "At the end of the day, the most important thing to remember is video offers tons of RMR potential and delivers really good security for your customer. It is a great marriage."
6 Deployment Best Practices
Smart video systems are a great way to remotely manage outdoor assets, but the system has little value if it cannot deliver reliable results. Proper installation and deployment is key. Here are six best practices:
1. Eliminate camera movement:A camera mounted outside may shake from passing cars, trucks or wind. Since cameras work by detecting movement, it is important to make sure the device remains stable. In all cases, choose outdoor cameras with built-in stabilization to maintain a high probability of detection.
2. Combine audio with intrusion detection:Watchmen Security has found good success triggering sirens and pre-recorded warnings when the camera detects an intruder, which Ingala says "basically stops crime before it happens." Since the monitoring center receives video of the event as it unfolds, they can choose to initiate live audio talkdown if the intruder does not respond, which "gets the trespasser to leave the lot nine out of ten times," according to Ingala.
3. Consider dual-sensor cameras:While thermal is considered the best all-around detector, systems are available that include a visible imager as well, which provides an additional aid for the monitoring center to confirm an alert. Combining two video cameras in one also reduces the cost and complexity of mounting multiple devices.
Some of these systems go further and apply analytic intelligence on both thermal and visible streams to enhance detection reliability. Dual-sensor analytic cameras work intelligently to cross-check each other inside the camera, and validate alerts from both sensors, providing high sensitivity with low nuisance alerts.
4. Cover wide areas:Another advantage of thermal solutions are the extended ranges that can help drive initial costs down considerably. These systems can enable a customer to use one or two cameras to cover an entire area; or, the customer starts with the most problematic area that needs immediate protection, and then grows the project with additional cameras when it makes sense.
5. Know the blind spots:Every security camera has a blind spot that should be considered in the security design. There are useful design tools that many manufacturers offer to help model a camera layout using a Google map of the area. This is a good practice because it helps with checking detection distances and ensuring that blind spots are properly addressed.
6. Mounting: Ingala suggests paying attention to camera height. "You really want to mount the cameras higher up, looking down over the scene," he says. "Of course, you can't see through trucks or other objects, so you want to consider that in the design."