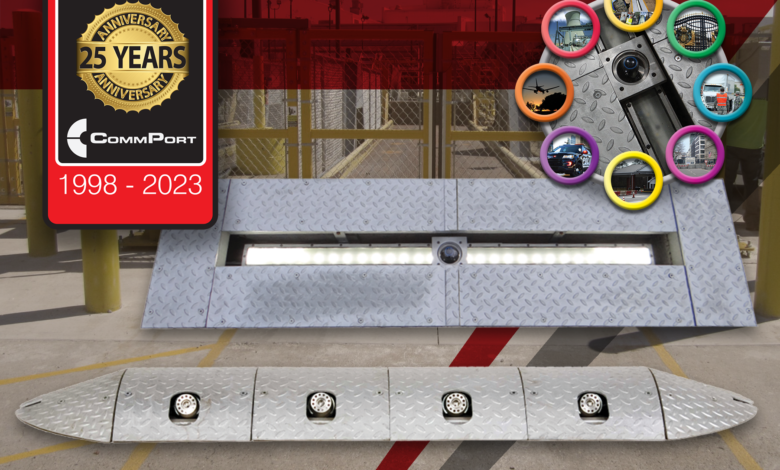 The company will demonstrate advanced UVSS image scanning for eliminating bottlenecks at ports, borders, airports and other high-volume vehicle inspection locations.
 Cranbury, New Jersey, USA, January 9, 2023 – Celebrating 25 years in design and manufacturing of specialized security vehicle inspection systems, Comm Port Technologies continues to expand its lead in under vehicle surveillance systems with the high performance and field-proven CPAS and FLEX series. Comm Port Technologies, the original authority and industry leader for specialized under vehicle inspection systems, will be at stand S3-A12 during the Intersec 2023 Show, Jan 17-19 in Dubai, UAE. Experienced staff will be on hand to demonstrate enhanced features of the full line of under vehicle surveillance systems.
CommPort CPAS System: The Comm Port CPAS series uses color area scanning technology to effectively scan and inspect the undercarriage of vehicles for real-time search and analysis of images for explosive devices, suspicious objects or contraband- such as drugs, weapons or explosives (IED). With CPAS there is no waiting like what is usually found with similar systems. Security analyst can view in real-time and full color, the entire length of any vehicle.  Also, there is no need for an expensive image-processing computer or control unit. Security personal can view it live with no delay and perfect image quality. The system captures in high-definition color, even with vehicles moving up to 75KMPH.  Image captures are created in either H.264 or MJPEG with scanning cameras available in 500FPS up to 900FPS. The ruggedized, heavy-duty base plate is made of high quality diamond plate steel with scanner and LED light arrangements integrated into the compact enclosure. Weight bearing capacity comes standard with a 78-ton capacity or an optional 110-ton capacity. CPAS is designed to withstand harsh environments, rugged terrain, and extreme temperatures while the system cameras and light sources are encased in a sturdy weather-proof house.
CommPort FLEX System: Comm Port's most popular UVSS system, FLEX, is a ramp-style under vehicle surveillance system that includes modular components which can be customized to fit compact or ultra-wide vehicle widths. With hundreds of installations world-wide, the FLEX series now integrates advanced metal which allows the system to withstand up to 78 tons from stationary or mobile vehicles. Steel ramp and shoulder sections can be added to expand over multiple lanes. Additionally, the ramps can be permanently mounted or can be utilized as a portable system.
CommPort FLEX-HH-300 UVSS Kit: The FLEX-HH-300, a handheld under vehicle surveillance camera kit is designed as a light weight, low power, portable system for simple setup and operations. The kit is perfect for perimeter security, observation posts, dead space monitoring, patrol line monitoring, border crossings, vehicle entry points or tactical operations entry points for military bases and other remote areas where threat detection and management are required. The FLEX-HH-300 is a self-contained, lightweight pole camera for inspecting hard to reach or dangerous areas for potential security hazards or breaches.
Along with the latest CPAS and FLEX series UVSS systems, Comm Port Technologies has partnered with IHSE USA (www.ihseusa.com) to demonstrate and extensive line of KVM (keyboard, video, mouse) display management systems for command and control environments. These KVM display management systems can be easily integrated with the Comm Port's control software to allow quick and secure access to other computer systems within the same network environment. Selection between computer systems can be accessed at the same workstation by quick keyboard hot-keys.
Visit us at stand S3-A12 during Intersec 2023.
Intersec 2023
Comm Port Technologies
Stand S3-A12
Comm Port Technologies, Inc.
1 Corporate Drive, Suite F
Cranbury, N.J. 08512
U.S.A.
###
For more information, call +1 (732) 738-8780 or email to info@comm-port.com
About Comm Port Technologies, Inc
Comm Port Technologies Inc. is a US based manufacturer of Under Vehicle Surveillance Systems (UVSS) / Under Vehicle Inspection Systems (UVIS) systems that specializes in the Defense, Critical Infrastructure, and the Security/Safety industry. Since 1998 we have provided state of the art, technology-based solutions for our clients' on 5 continents and in over 45 countries.  Whether you are protecting your workplace from terrorism, loss prevention or sabotage, our UVSS / UVIS products integrate with Physical and Network Security solutions that range from VMS, CCTV, intrusion detection, access control, material handling, X-ray systems, and other advanced perimeter protection systems. The management, technical, R&D, and manufacturing teams of our organization is made up of industry veterans in the security, defense and manufacturing business with more than four decades of experience from different parts of the world with diverse backgrounds.
CommPort is proud to be a "Made in the USA" manufacturer headquartered in Cranbury, New Jersey, USA.
Find out more at w ww.comm-port.com