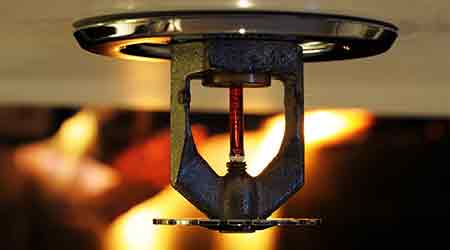 Its proven Video Smoke Detection technology detects, identifies and analyses smoke at the start of a fire. This enables users, located on site or remotely, to raise the alert and take appropriate action early. VSD technology understands the behavior and movement of smoke.
American PERMALIGHT
EXIT Signs
These code-compliant EXIT signs are NON-electrical and NON-radioactive: they get activated by ambient lighting and high-performance glow in the dark, ideally suited for high-location and floor-proximity installation. The signs are preferred due to no maintenance: no burned out light bulbs, no electricity needed. Installation is easy with just a screw driver: no electrician needed. Photo luminescent EXIT signs have no expiration date and 25 years life expectancy.
System Sensor
i4 Series
The i4 Series Combination CO/Smoke Detector and Interface Module is the first low-voltage, system-connected, combination smoke and carbon monoxide detection solution for conventional fire and security systems. That means less wire, less labor and fewer devices on the wall or ceiling. The i4 detector's integral sounder produces both Temp 3 and Temp 4 patterns, sending distinct smoke and CO alerts to the panel and homeowner. And, with 24/7 central station monitoring and the most reliable and accurate sensing technologies, it means the highest levels of protection available.
System Sensor
FAAST XT
FAAST XT brings all the capabilities of FAAST – such as three stage filtration, Very Early Warning Fire Detection, and several integration options – to a broader range of applications. The smoke-sensing chamber can detect particulate up to 0.00046%/ft obs-curation, and the two-light chamber offers increased accuracy and nuisance immunity. FAAST XT can cover up to 28,800 square feet in Standard Detection, and has an aggregate pipe length of 1,050 feet.
Eaton
Ex-ceder LED Strobe
With the Ex-ceder LED low frequency sounder strobes, organizations can now meet both sleeping room codes – NFPA 72 and NFPA 720 – with one device, which features two different sound patterns, T3 for fire detection and T4 for CO. The low frequency sounder strobes can replace a facility's existing appliances, utilizing the same single pair of wires that are currently installed, offering a simple retrofit to meet new codes for sleeping rooms.
System SensorDoc Center App
The Doc Center App's convenient features improve user experience and save time. The app automatically updates when new literature is available, providing the most up-to-date product and technical information at all times. It's fully searchable, making it quicker to find specific documents. It also reduces paper waste associated with printed materials and allows users to bundle all of the most important information on a single device.
Honeywell Fire SystemsAspirating Smoke Detector
As part of the System Sensor Fire Alarm Aspiration Sensing Technology (FAAST) line, the FAAST XT 9400X continues to offer the same high level of false alarm immunity and precision sensing to protect challenging fire detection applications and critical facilities.
Reflective ApparelANSI-compliant Gear
We have a complete line of ANSI- compliant gear with premium components like YKK zippers, 3M Scotch lite Reflective Materials & Thinsulate the most visible and dependable in the industry. Breathable fabrics to keep you cool. Our in-house Art Department will logo without any minimums. BIG and Tall options are available.
Silent Knight by Honeywell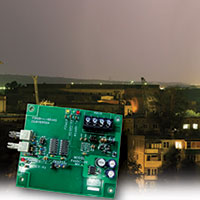 SK F485C Wire to Fiber Converter
Silent Knight has released the SK-F485C Wire to Fiber Converter, which will significantly increase wire runs between fire alarm control panels and power supplies. The converter also will provide a major boost in surge protection. It is the first wire to fiber converter to be UL listed for a non-proprietary line of fire alarm systems and sold over-the-counter at security equipment wholesalers nationwide. It is an ideal solution for large facilities and multi-building campuses seeking non-proprietary fire alarm systems. The new fiber converter allows one Intelliknight addressable fire alarm control panel from Silent Knight to be extended over fiber-optic cable to protect multiple buildings while severely limiting the risk of damages from electrical surges.
System Sensor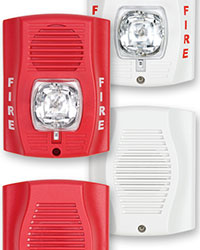 SpectrAlert Advance Low Frequency Sounders and Sounder Strobes
System Sensor SpectrAlert Advance Low Frequency Sounders and Sounder Strobes meet the new NFPA 72 2010/2013 low frequency requirements for certain new sleeping spaces. These devices were designed to easily integrate into the panel's notification appliance circuit (NAC) line and provide audibility and tone requirements needed to awaken individuals. The SpectrAlert Advance universal mounting plate uses an onboard shorting spring, so installers can mount the plate and test wiring continuity before the device is installed. The low frequency sounder and sounder strobe devices are easily retrofitted into existing SpectrAlert Advance notification applications while also delivering greater flexibility for the new code requirements.