Health and Safety
The back-to-work rules: Toilets must be watched and two masks for every employee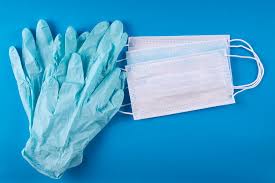 South Africa now has official workplace rules to combat Covid-19, gazetted on Wednesday night by labour minister Thulas Nxesi.
The regulations are immediately in force, and will remain so until South Africa's national state of disaster is called off.
They include general injunctions to minimise the number of workers through shift rotation and remote working, and companies are called on to "minimise contact between workers as well as between workers and members of the public".
But there are also very practical rules that companies will have to follow or they may face fines, or worse.
These are some of the specific rules, now formally in force, that businesses must follow as long as South Africa is in a Covid-19 state of national disaster.
Big and small businesses have different rules
Companies with fewer than 10 employees face a much less onerous set of rules than their bigger counterparts. And those with more than 500 employees have their own special requirements. For instance, large companies must submit a written risk assessment and accompanying policy to the department of labour.
Small companies, meanwhile, have only eight real rules to follow:
Employees must either be 1.5 metres apart or must have "physical barriers" between them.
Those showing symptoms of Covid-19 may not be allowed to work.
The employer must phone the national Covid-19 hotline in case of trouble.
Employees must have cloth masks.
Everyone must have access to soap and water, and sanitiser that can be used on workstations as well as hands.
Employees must be made to wash and sanitise.
The must also disinfect workstations regularly.
And companies must "take any other measures indicated by a risk assessment".
---
Toilets must be monitored as part of physical distancing enforcement
Employers are now responsible for physical distancing, or social distancing as government calls it, and must use queue systems or similar to keep people apart.
That includes in canteens and toilets.
Measures "may include dividing the workforce into groups or staggering break-times to avoid the concentration of workers in common areas".
---
Employees must be screened – and not only for fever.
Companies must screen workers when they report for work – for "any of the observable symptoms associated with Covid-19", listed as:
fever
cough
sore throat
redness of eyes
difficulty breathing.
The regulations do not say what level of medical training is required for the person or people doing the screening, but other parts of the rules require self-reporting by employees, with employers only responsible for impressing on workers that they must report symptoms.
---
Employers may have to explain what happened if any employee picks up SARS-CoV-2
Companies are now obliged to report to both the department of health and the department of employment and labour if an employee is diagnosed with Covid-19. They must then investigate the cause of infection, "including any control failure" in the workplace.
---
Companies are going to need medical-grade masks, and a transport plan, for emergencies
If an employee shows symptoms while at work, it is now the duty of the employer to provide a FFP1 surgical mask and transport "in a manner that does not place other workers or members of the public at risk".
The company is also responsible for ensuring the worker is then tested.
Fingerprint ID systems are probably out – and cloth towels are banned outright
While other forms of shared electronics can be used if sanitised regularly, fingerprint identification systems are entirely out unless they can be made "Covid-19-proof".
The regulations have no guidance on how such proofing could be achieved.
Also, only paper towels are allowed; "the use of fabric towelling is prohibited"
---
Every employee must get two fabric masks that comply with new guidelines – and washing is the employer's problem
Each employee must get at least two cloth masks free of charge, the regulations say, for use both at work and while commuting.
Those masks must comply with the brand new SA government guidelines for such masks.
"An employer must make appropriate arrangements for the washing, drying and ironing of cloth masks," according to the regulations.
Covid-19 workplace plans now have a specific format
It does not form part of the labour regulations published on Wednesday, but businesses now have a template for Covid-19 workplace plans.
The list of requirements for the plan forms part of new general lockdown regulations announced on Wednesday night, and ue to be published in the Government Gazette on Thursday.
The text of the Covid-19 workplace plan template reads:A Covid-ready Workplace Plan must be developed prior to the reopening of an enterprise employing persons or serving the public.
For small businesses, the plan can be basic reflecting the size of the business, while for medium and larger businesses, a more detailed written plan should be developed given the larger numbers of persons at the workplace.
The Plan for medium and large businesses must include the following:
1. The date the business will open and the hours of opening;
2. The timetable setting out the phased return-to-work of employees, to enable appropriate measures to be taken to avoid and reduce the spread of the virus in the workplace;
3. The steps taken to get the workplace Covid-19 ready;
4. A list of staff who can work from home; staff who are 60 years or older; and staff with comorbidities who will be required to stay at home or work from home;
5. Arrangements for staff in the establishment:
(a) sanitary and social distancing measures and facilities at the entrance and exit to the workplace;
(b) screening facilities and systems;
(c) the attendance-record system and infrastructure;
(d) the work-area of employees;
(e) any designated area where the public is served;
(f) canteen and bathroom facilities;
(g) testing facilities (for establishments with more than 500 employees);
(h) staff rotational arrangements (for establishments where fewer than 100% of employees will be permitted to work).
6. Arrangements for customers or members of the public, including sanitisation and social distancing measures.
Companies must keep a copy of their plan around for inspection, and must have a designated Covid-19 compliance officer under the general regulations.