Health and Safety
Catholic Relief Services Distributes PPE to Catholic Health Facilities in Liberia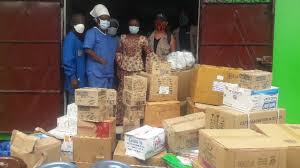 The Catholic Relief Services (CRS) through the National Catholic Health Council (NCHC) on Wednesday, May 6, distributed a consignment of Personal Protective Equipment to two Catholic health facilities, Sr. Barbara Ann Health center and Sr. Agnes Memorial Maternity Clinic in Gadernesville.
The equipment include hand sanitizer, alcohol, faucet bucket, noise masks and essential drugs among others and is part of an ongoing distribution of PPEs worth over US$ 200, 00 (Two Hundred Thousand) by CRS and NCHC to 23 health facilities across Montserrado and environs.
CRS said the distribution is also part of efforts to mobilize its global presence to fight the spread of COVID-19 and ensure proper care for those affected in some of the world's most vulnerable communities.