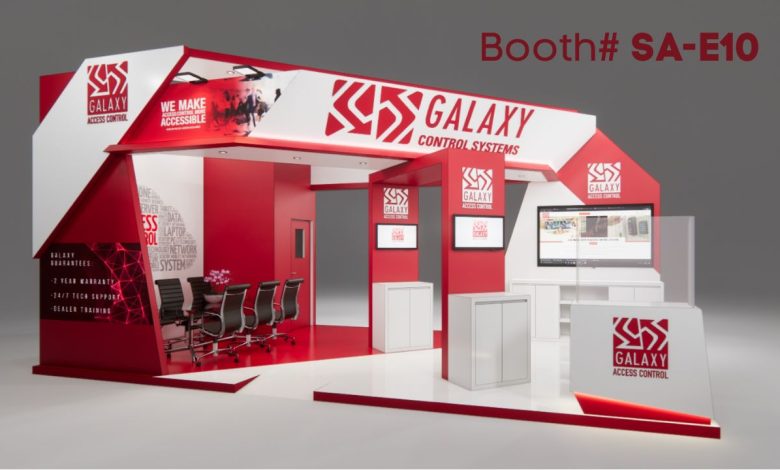 Galaxy Control Systems, a leading provider of integrated access control and security solutions, will introduce its seventh generation hardware "700 Series" access controller. This new platform is based entirely on OSDP demonstrating the commitment to this emerging technology. "We are offering this new controller with embedded OSDP as the only means of communications to ensure the most secure and trusted data path between the controller and the devices mounted at the door," says Rick Caruthers, President. "While others are offering this feature as an either-or with the older Wiegand this new controller is only OSDP taking the guesswork out of the question, is my data protected or not?
Galaxy is also proud to announce its recent partnership with Mercury Security and its extensive line of controllers. This is the first time in the company's history that a third-party panel will be supported within the Galaxy software suite. "Galaxy is evolving from a company that developed hardware and software equally to a company that is becoming more software-centric," says Caruthers. "We have invested in the last fourteen (14) months in our software development team to include 5 new positions which will result in more software integrations, enhancements. The addition of the Mercury product line will allow Galaxy dealers a flexible choice to best satisfy the customer's needs. "There will be developments unique to both hardware platforms and this will result in a powerful and combined total solution" according to Caruthers.
Galaxy will also display new and enhanced integrations and features to its ever-growing Cloud Concierge cloud-based Access Control as a Service (ACaaS). These include expanded integrations with Microsoft Active Directory, Eagle Eye VMS, Smartrent, STID and other strategic partnerships.  "The demand for high-performance accessible access control solutions continues to rise as users look for more effective and efficient ways to protect people, property and assets," said Rick Caruthers, President, Galaxy Control Systems. "By offering both on-premise and Cloud access control platforms, users can implement the solution that best meets their needs and budgets without ever sacrificing performance."
System Galaxy is a complete, enterprise-class access control and security management solution that offers unsurpassed ability to satisfy the requirements of any credential management, access control or security application. With a highly intuitive and easy to use user interface, System Galaxy offers a comprehensive portfolio of features that can be deployed in any combination to accommodate access control, alarm/event monitoring, intrusion detection, video surveillance, elevator control, identification and credential management, photo imaging and badging, time and attendance, visitor management, reporting, and more.
 Cloud Concierge is a powerful suite of cloud-based computing services that provides real-time monitoring, management and control of an access control system from virtually any location where there is Internet access using a PC, tablet, or mobile phone. The solution can be customized for integration with video surveillance, visitor management, elevator control, locks and turnstiles onto a unified platform. Cloud Concierge is offered in three configurations: on-site user-managed, remote user-managed, remote integrator-managed. Cloud Concierge provides users with a highly cost-effective SaaS solution that is highly attractive to users who could not otherwise afford the capital outlay required to implement physical security solutions with this level of performance.
Galaxy Control Systems is also showcasing its new versatile and cost-efficient IP Intercom Entry System with partner BAS-IP. Users can gain entry to a facility using a traditional key fob, a PIN, or a Bluetooth credential. System administrators can allow users to enter a facility via a mobile app, apartment monitors, LCD concierge phone, or POTS line. The powerful browser-based access control solution can be used as a stand-alone product or can be integrated with access and video.
All Galaxy Control System products and software are developed and made in the USA and maintain the highest levels of certification to meet U.S. government requirements including compliance with the United States Department of Defense (DoD) Risk Management Framework (RMF).
Visit Galaxy Systems at ISC West booth #7089 or email marketing@galaxysys.com to set-up a demonstration at the show.
About Galaxy Control Systems
Galaxy Control Systems, a privately held company headquartered in Walkersville, MD, is a leader in the integrated access control industry. The company's hardware and software solutions, all manufactured in the USA, provide access control, video surveillance, alarms, photo-imaging, badging, elevator control, building management and time and attendance for small applications, fully integrated security management systems and enterprise-class control systems. All Galaxy Control Systems products are scalable and backward compatible, designed and engineered to deliver lower Total Cost of Ownership and a higher Return on Investment than competitive products. With unsurpassed technical support, Galaxy supports its reseller partners with free ongoing training while providing the highest levels of system implementation and maintenance. For more information on Galaxy Control Systems' extensive line of products, visit www.galaxysys.com.