Access Control
Mobile access technology, innovative ways of keeping safe in our work and educational environment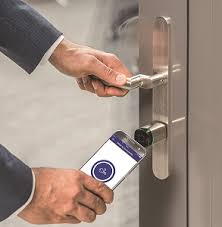 South Africa and the world are faced with a pandemic which has turned our lives upside down. Living our 'normal' daily lives is no longer possible, and even with an easing of the lockdown in South Africa we cannot conduct business as usual. The virus has impacted our homes, our workplaces, hospitals and educational institutions. As employers, employees, residents, students we all need to change our lifestyle habits, be more cautious of what we do, where we go and importantly what we touch.
As we return to work, we need to balance our need for security, with our need to care for our health. With the avoidance of touch-based systems, and to increase on-site hygiene, biometric security systems are being disabled to enable a return to work for some businesses, and there are hesitations even around the access card and tag approach to access control systems. But there are solutions that will allow high levels of security, with a "no-touch" approach to security. It even enables biometrics in certain circumstances. Mobile-phone access systems may be the solution to balance all a business' needs.

Introducing mobile-phone access products encourage safe and good hygiene practice in the workplace, while still ensuring high-security access management.
Most employees now use smart-phones, and with biometric identification loaded on most of the new models, a secondary security element of fingerprint identification allows that next level of security while still simply waving your phone to gain access.ADVERTISEMENT

What is Mobile Access?
Mobile access technology uses existing mobile device system and integrates with the safety access software for better security and access. Not only is it cost-effective, as it integrates with existing software; from smartphones, smartwatches compatible with both Apple and Android software. It is also simple; it makes the process easier for the user, minimizing the risk factors of coming into contact with any surface that might be germ infested.
How can we integrate it to our environment?
Access products such as ASSA ABLOY'S SMARTair access control system offers a mobile App 'Opennow' for our daily lives at work and in our homes. The Opennow app, is a software that replaces keys and smart-cards with secure credentials stored on a user's phone. It is a system that integrates easily with existing systems through your phone. It's easier than you think to make your workplace mobile ready with SMARTair Openow mobile access control. All site users need is their smartphone and the Openow app to unlock any SMARTair device. Users don't need to collect a credential: It arrives automatically inside the validated app on their smartphone, exactly when the facility manager decides. Users can protect their Openow™ app with a PIN, and even store keys for multiple sites inside a single app. Every user's app automatically sends event reports back to the SMARTair system.
Facility managers send, revoke and update virtual keys over the air from anywhere, using the SMARTair TS1000 software. Your business replaces smart cards, tags, keys and other physical credentials altogether. Everything else works exactly the same.
Protecting ourselves from germ exposure has become a critical way of our life, in all industries whether it be in the hospitality, educational institutions and in the medical sector we see high risk of human contact. The SMARTair Hospitality system (SPY locks, proximity cylinders and wall readers), in addition to the usual proximity credential and remote opening through the management software, allow the opening of the devices through an app for smartphones of the end user, valid for both guests and staff. This opening solution improves the guest experience and greatly simplifies the day-to-day management of the installation. The end user downloads a simple app from the corresponding market (Android or iOS) and registers with an email address. When checking of the room is done, the app user receives notification that will add the key on his smartphone to open the wireless locks. Guests do not come into any physical contact except upon arrival at the hotel or resort.
If we look at solutions for the educational environment, which have high traffic, multiple buildings and doors, (and therefore relatively high hygiene risk), the HID Mobile Access Campus solution, is tailor made for campuses. It enables new levels of user experience through One Digital Identity. HID's Mobile Access Campus solution provides students and faculty with one seamless digital identity that can be conveniently utilised across multiple scenarios, all through the mobile device.
The solution improves physical access control: End-users are no longer required to carry a physical card to securely access building facilities – they can instead supplement or replace their card with their mobile device. Payment Authentication can be incorporated, with students and faculty using their phone or tablet to authenticate payment for dining areas, canteens and cafeterias. Libraries and Rentals are managed via the mobile identity for checking out books, CDs, and DVDs. It even manages mobile ticketing with users able to enter sporting events, concerts, lectures thanks to mobile ticketing capabilities offered by HID Mobile Access.
By authenticating one connected, digital credential, colleges and universities can greatly enhance the overall user experience, all while creating a more modern, professional and innovative impression.
The HID Seos™ solution is the next generation of credential technology that provides the ideal mix of security and flexibility for any organisation. It is a highly advanced encryption and software-based infrastructure, it secures trusted identities on any form factor and can be extended for applications beyond physical access control, which is major factor encouraging social distancing, with the various industries including enterprise, Education, Government, Hospitality and more.
This solution integrates with existing infrastructure within any institution, it is secure, portable and adaptable to multiple applications. The Seos™ solution supersedes other technologies by providing great security with best-in-class cryptography with unrivaled data and privacy protection. Seos is software-based, which provides new levels of form factor flexibility, including use on mobile devices, smart cards, tags, and more.
Seos can also be extended for applications beyond physical access control, including uses tailored for Enterprise, Education, Government, Hospitality, and more.
As we continue the fight against COVID-19, we look for innovative ways of managing safety in our workplace, educational institutions and home environments, and these solutions can improve security and safety.