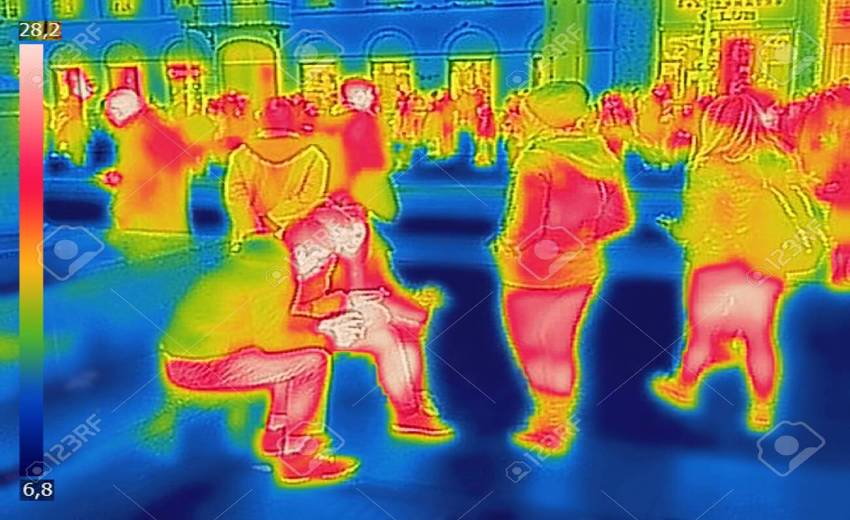 Dual-Lens cameras usage has been increasing since COVID-19 hit most countries around the world. The cameras are being implanted in locations such as, airports, train and bus stations, department stores, sports centers, and workplaces. What is concerning the majority of building management supervisors around the world currently, is that they manage to screen who wants to enter their premises to make sure that they are not entering with an elevated temperature. Therefore dual-lens cameras have found themselves on the front line in the battle of keeping people safe from COVID-19. We have selected the following 8 dual-lens cameras for elevated temperature screening.
1. Dahua DH-TPC-BF2120-T Thermal Network Mini Hybrid Bullet Camera
The Dahua DH-TPC-BF2120-T Thermal Network Mini Hybrid Bullet Camera Features a dual lens, fixed bullet camera, the camera offers an all-in-one solution for capturing video surveillance for indoor and outdoor applications. Thermal and visible technology provide the camera as the perfect solution for dark, small area monitoring applications. One thermal camera for monitoring in total darkness and one visible camera with smart IR for confirming details are what give the camera its functionality of making the camera highly sensitive to temperature changes, making it ideal for temperature monitoring and fire detection.
2. Hikvision Temperature Screening Thermographic Thermal & Optical Bi-spectrum Network Bullet Camera
Hikvision DS-2TD2636B Temperature Screening Thermographic Bullet camera is designed to detect elevated skin-surface temperature with high accuracy in real time. It can be used for preliminary temperature screening in office buildings, factories, stations, airports and other public places. The camera is equipped with an alarm function, which will sound an alert if it detects someone with an elevated temperature. The temperature accuracy: ±0.5 °C, giving the Thermographic camera a high level of accuracy in access control screening.
3. Z3CAM-DX Dual Spectrum IP Camera 
The Z3Cam-DX offers a distinctive combination of 4K visible video and thermal imaging providing detailed situational awareness. The Z3CamDX combines video compression expertise from Z3 Technology with Sony's worldwide leading 4K camera technology and DRS Tamarisk's renowned thermal imaging. Simultaneously stream and/or record in multiple resolutions and bitrates, with multiple viewing options including, Dual monitor view optional; or visible with thermal overlay picture-in picture mode.
4. Tiandy Camera Thermal & Optical Bi-spectrum Network Bullet Camera 
The Tiandy Thermal and Optical Bi-Spectrum Network Bullet Camera supports both the optical and thermal bi-spectrum range, which is used in detecting elevated temperatures. The highly accurate camera by Tiandy has a detection accuracy range of ±0.5°C, but this can be reduced to ±0.3°C by adding the use of a blackbody to the system setup. A built in mic and speaker is included, in order to issue alerts or warnings, making the Tiandy Thermal and Optical Bi-Spectrum Network Bullet Camera ideally suited to use by organizations looking to screen people before allowing access to their organizations.
5. SATIR CK350-VN 
The SATIR CK350-VN is an infrared temperature measurement camera for precise control and monitoring external facilities such as substations. The CK350-VN has a 384×288 IR detector which generates a clear, detailed visual. The CK350-VN has a wide temperature range of -20~250°C, up to 2000°C with a temperature measurement accuracy of ±2°C or 2% of a reading. The CK350-VN has a digital camera which automatically focuses and has optical zoom of 23x. This is a great feature, if the user is monitoring a large area such as a forest allowing them to zoom on certain points of interest. For example, perhaps a part of the forest area that is prone to fires reigniting after a forest fire. Multiple palette modes are available which allows the user to select the palette that is most suitable to their application.
6. System Silent Sentinel Fixed Modum Fever Detection Camera 
The Fixed Modum is a highly accurate temperature detection and profiling system that offers a high level of temperature accuracy. When deployed with the supplied blackbody, the Fixed Modum is accurate to within 0.3 degrees, making it ideal for standoff fever detection requirements. The Fixed Modum combines a highly accurate thermal camera with a HD daylight camera for quick identification making optimal for use in elevated temperature detection for access to work environments or transportation hubs.
7. TVT TD-5433E Thermal Network Bullet Camera 
TVT's TD-5433E Thermal Network Bullet Camera is able to capture 30 faces simultaneously, the camera is complete with a temperature exception alarm, which will sound an alert if it detects anyone who has an elevated temperature. A built in white light and loudspeaker allows end users to ensure anyone accessing a premises is aware of what is going on.
8. SEC-BODYTEMPCAM1: Body Temperature Detection Network Camera 
The SEC-Bodytempcam1 is a dual-lens camera that is capable of detecting elevated body temperatures due to the onboard temperature detection algorithm. Up to 16 people's temperatures can be detected simultaneously and has an accuracy within 0.3°C while the fast response time of 30ms helps to quickly identify 'hot' targets trying to access workplaces, transportation hubs, or shopping centers.