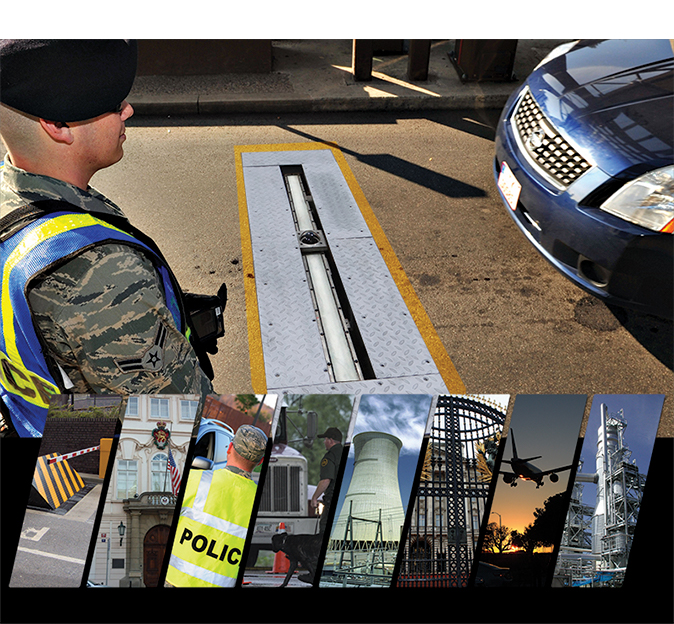 Adaptable Matrix Software (AMS) provides the most advanced capabilities of customization and adaptability for the deployment of a secure UVIS/UVSS system.
Comm Port Technologies, the original authority and industry leader on specialized under vehicle inspection systems/under vehicle surveillance systems (UVIS/UVSS) , announces the latest software enhancement for their flagship CPAS line of under vehicle surveillance and inspection systems. Comm Port's AMS (Adaptable Matrix Software) is an advanced software technology that allows for either independent and dependent programmable signal timing variations in the CPAS systems sequential information capture processes. The AMS software further allows for these same benefits to be integrated to 3rd party devices and systems that either provide input to, or receive input from, the CPAS UVIS system.
With the introduction of AMS, Comm Port continues to prove itself as the leading manufacturer of UVIS/UVSS systems in the world. AMS was developed in direct response to feedback from customers, integrators, engineering, and architectural firms that routinely use, install, and specify its CPAS UVIS systems.
AMS allows for maximum flexibility in the deployment of CPAS systems and related subsystems resulting in a measurable reduction in the overall design and installation costs of a UVIS/UVSS system. The new software allows a system to be used in a manner that enhances the capabilities of operations and security measures while eliminating constraints associated with typical hard-coded processes.  AMS in tandem with a simple API protocol, virtual sandbox testing and the company's ability to achieve certification with major industry leading platforms and sub-system providers now enables Comm Port to quickly adapt to any future UVIS/UVSS needs.
"Introducing AMS was a critical step in support of our advanced product development philosophy," said Ben Renshaw, VP of CommPort Technologies Inc., "Most importantly, because we own and write our own code we are constantly soliciting our customer base with a "What's next?" attitude. AMS underscores the close relationship we enjoy with our customers and partners as its development was based 100% on their input and feedback."
CPAS, highly regarded throughout the world, provides security and operations personnel with real- time and full color image processing supporting image capture up to an incredible 1300 FPS supporting vehicle speeds to 95 KMPH. The new AMS software is the latest in a long list of advanced standard features making Comm Port's CPAS UVIS/UVSS systems, by far, the best UVIS/UVSS performance value on the market today.
For more information, call +1 (732) 738-8780 or email to info@comm-port.com
Comm Port Technologies Inc. is a US based manufacturer of Under Vehicle Surveillance Systems (UVSS) / Under Vehicle Inspection Systems (UVIS) systems that specializes in the Defense, Critical Infrastructure, and the Security/Safety industry. Since 1998 we have provided state of the art, technology-based solutions for our clients' on 5 continents and in over 45 countries.  Whether you are protecting your workplace from terrorism, loss prevention or sabotage, our UVSS / UVIS products integrate with Physical and Network Security solutions that range from VMS, CCTV, intrusion detection, access control, material handling, X-ray systems, and other advanced perimeter protection systems. The management, technical, R&D, and manufacturing teams of our organization is made up of industry veterans in the security, defense and manufacturing business with more than four decades of experience from different parts of the world with diverse backgrounds.
CommPort is proud to be a "Made in the USA" manufacturer headquartered in Cranbury, New Jersey, USA.
Find out more at w ww.comm-port.com