Access Control
STid SPECTRE nano Reader Accelerates Car Park Access Control with Simultaneous Vehicle/Driver ID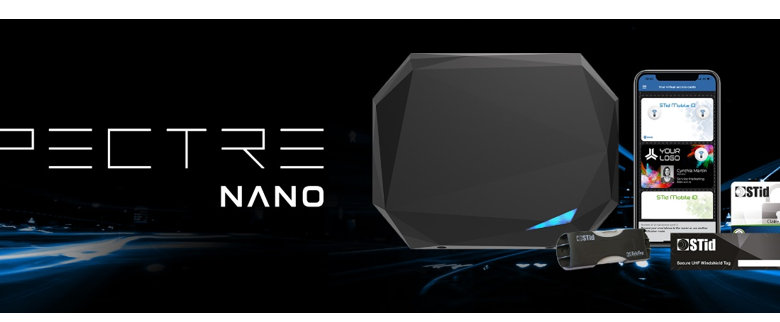 STid, creator of the world's most awarded access control reader, announced today it has set a new standard in car park access control and simplified visitor management with its new SPECTRE nano reader. The multi-technology reader quickly recognizes employees, visitors, vendors, and their vehicles – simultaneously – for smooth, hands-free access control without compromising security.
Easy to use, "all terrain" reader
The next generation, hands-free reader increases speed of entry for anyone – or anything – on two feet, two wheels, four wheels or a whole fleet. It reads windshield tags, key fobs, cards, smartphones, or wearables using UHF and Bluetooth® to leverage end-user preferences for easier adoption. It is also part of the STid Mobile ID® ecosystem, which turns smartphones into virtual cards for both vehicle and pedestrian access control.
Compatible with all access control systems worldwide, STid designed SPECTRE nano for easy integration regardless of managers' tech expertise. The outside packaging is as rugged and durable as the technology to ensure the reader can stand up to harsh environments – everything from shock, heavy rain, and dust, to salt, frost, and fire. SPECTRE nano offers customized branding options to fit in at a bus station, corporate office, or private community, and is able for use in high-security industries. A cost-effective solution, the new reader can be installed and (almost) forgotten, with no maintenance or batteries required.
"We've all experienced the long wait time to get in and out of parking garages trying to pay tolls or scan access badges, tolls or gates," said Frederick Trujillo, U.S. operations manager, STid. "Our new SPECTRE nano reader solution offers a faster entry/exit process and simple, hands-free use with top end-to-end security for hospitals, government agencies, universities and more. Parking areas are especially vulnerable to theft, damage, vandalism and even acts of terrorism making improved access control critical."
Designed for global customers, SPECTRE nano uses OSDP™ and SSCP® protocols and has EAL5+-certified storage. Data authenticity and confidentiality are ensured using encryption methods recommended by worldwide organizations, e.g., ANSSI- & FIPs-compliant. Encrypted, signed credentials provide anti-cloning and anti-replay protection and managers can quickly erase security keys, when necessary.
SPECTRE nano will be available in October to help speed car park access control. For more information, please visit our SPECTRE Nano page.
About STid
STid's mission is to protect people, their property and data through secure access and identity. For more than 25 years, STid has created and marketed identification solutions for high security physical and logical access control, as well as Automatic Vehicle Identification. The Company aims for businesses, residential, governments and industry to simplify and protect their digital identity management by developing non-proprietary intelligent identification solutions that use state-of-the-art RFID, NFC, Bluetooth® and Internet things of Things (IoT) technology. A recognized pioneer in its field, STid was at the forefront by being the first manufacturer to obtain First Level Security Certification (CSPN) from the French government agency ANSSI for its access control solutions. With eleven awards, STid offers the product line – the Architect° series of readers – most awarded in the world by security experts. STid recently launched the new SPECTRE nano UHF and Bluetooth® reader for easy vehicle and driver access control.